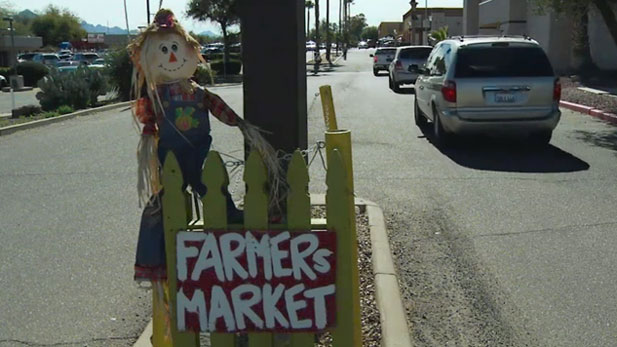 PHOTO: AZPM
Founder of what has become Arizona's biggest community supported farmer's market Annie Duncan, takes us a tour of the market in Green Valley that doesn't just have vegetables, fruits, bread, herbs, live music, and crafts, but also has a friendly atmosphere.
Organizers and merchants say farmers markets add value to communities, and provide income for a broad assortment of residents.
Annie Duncan, organizer of the Green Valley Farmers Market, says this once-a-week event is arguably the largest of its kind in Arizona with more than 150 vendors.

"Three years ago, in '08, we started with 25 vendors," Duncan says as she walks through the crowded stands. "I've never publicized it. It's just been one vendor telling another vendor 'you need to be at the Green Valley Mall on Wednesdays.'"
"When you buy from someone that creates local, the money goes into their pocket and it's (what) they use to pay their mortgage, their phone bill, keep the lights on in their house, put gas in the car, and it's a direct infusion into the economy."
Duncan says the market helps farmers stay in business and preserve natural resources.