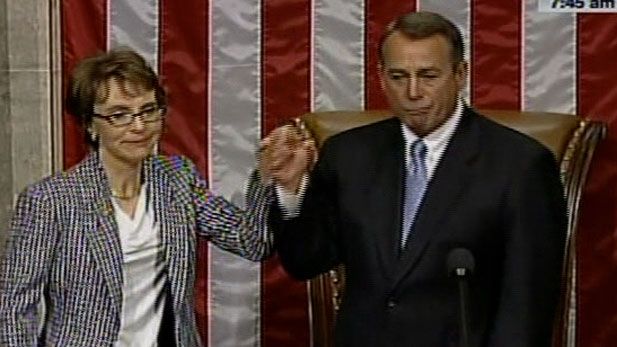 Gabrielle Giffords with House Speaker John Boehner, moments after she handed her resignation letter to him. (PHOTO: C-Span)
U.S. Rep. Gabrielle Giffords, D-Ariz., officially resigned from Congress today.
Hear Christopher Conover's report here:
The emotional ceremony on the House floor was capped by her submission of a resignation letter to Speaker of the House John Boehner. Gov. Jan Brewer received the same letter today.
Read Giffords' letters
View at Google Docs | Download File
"I will recover and I will return, and we will work together again," said Giffords in a statement read by colleague and close friend Rep. Debbie Wasserman Schultz, of Florida, as Giffords stood close by. Giffords then submitted her resignation and left the floor to a standing ovation.
From left, Giffords' staff member Emily Fritze, Giffords' mother Gloria, husband Mark Kelly watch as she submits her resignation.