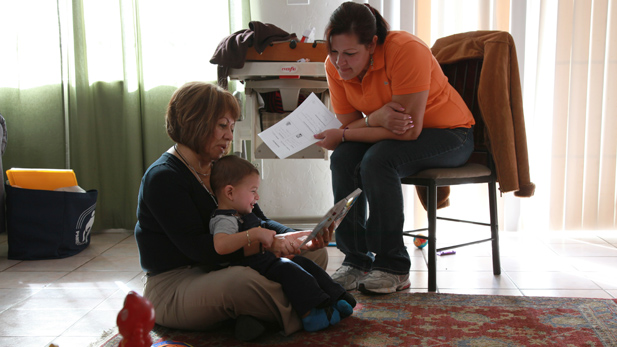 Raquel Cortez and her son, Christopher, are at home during a home visit from Patricia Escarcega (left), a Sunnyside School District educator. (PHOTO: Fernanda Echavarri)
A program in Tucson's Sunnyside Unified School District is teaching parents how to be teachers to their children.
Parents As Teachers focuses on kids before they enter kindergarten, using funding from the First Things First initiative approved by voters in 2006. In Pima County three school districts have it available: Marana, Amphitheater and Sunnyside.
Sunnyside's participants include Raquel Cortez and her 20-month-old son Christopher, who get home visits from Parents as Teachers educator Patricia Escarcega.
Hear Fernanda Echavarri's story:
Escarcega works with 30 families in the Sunnyside district, visiting each once a month and bringing books and toys as part of a lesson plan. Lessons include focus on reading, playing with different textures and safety in the home.
Escarcega and 12 other educators from Sunnyside visit more than 350 homes and hold group classes to teach parents the crucial role they play in early childhood education.
The program is a voluntary early childhood family education program that begins prenatally. Joan Katz, the program director, says it's intended to help parents during the first three years of a child's life.