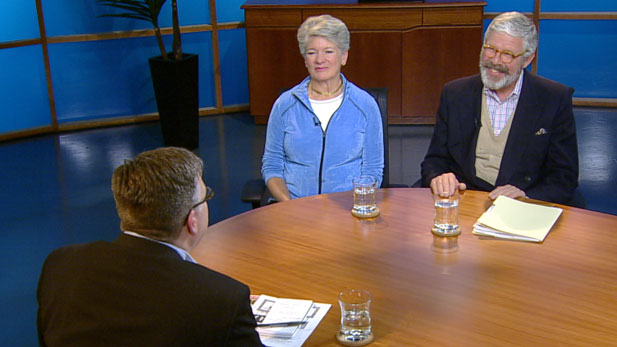 Volunteer Patty Hilpert (center) and President Shaw Kinsley (right) of the Tubac Historical Society tell us about the rich history of the Santa Cruz Valley and the celebration that they have planned in honor of Arizona's centennial year. (PHOTO: AZPM)
Arizona's statehood centennial is bringing forth many events that will celebrate the state's unique history.
The Tubac Historical Society is using its annual luncheon meeting as a chance to look back at the historic relationship that the film industry has had with Arizona and, in particular, the Santa Cruz Valley.
Two guests who with an abundance of stories to tell about the glory days of Western movie making will attend the Thursday luncheon. Bob Shelton, the founder of Old Tucson Studios, and Don Collier, a film and TV actor with more than 70 film credits and is best known for his portrayal of ranch foreman Sam Butler in the The High Chaparral TV series from 1967 to 1971.
The luncheon at The Tubac Golf Resort is just one example of the ways that the Tubac Historical Society is honoring of Arizona's 100 years of statehood, Society president Shaw Kinsley says.