A few hours after U.S. Rep. Gabrielle Giffords resigned from the House of Representatives, her husband Mark Kelly called it a sad day. But he said it was also a good day, because Giffords got to vote one more time on a bill that meant a great deal to her.
Giffords' resignation means that Arizona voters will now head to the polls for a special election to fill the vacancy in Congressional District 8. And Kelly said voters shouldn't be surprised if they see his wife on the campaign trail.
"It is really important to Gabby that there is good representation…in Washington for her constituents," he said. "So yes, there is a very real possibility that if she identifies the right candidate she'll endorse somebody and she'll get behind them."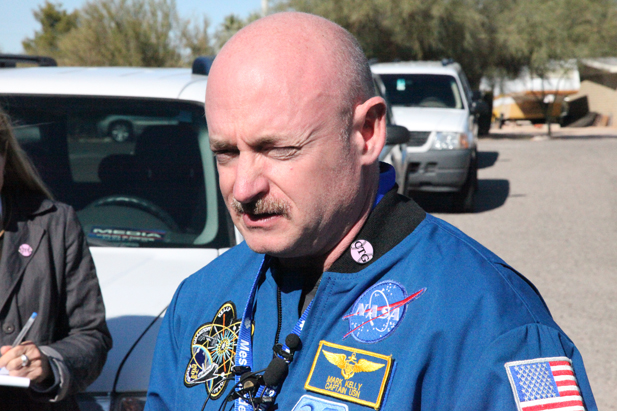 PHOTO: Mark Duggan
Mark Kelly in a recent visit to the school of Christina-Taylor Green, a victim of the January 8, 2011 shooting.
Giffords' decision to resign caught many in Southern Arizona by surprise, but Kelly said it was far from a snap decision. Giffords realized she just could not give the job of representing CD 8 her full attention right now and that is why she is stepping aside, he said.

But he added that Giffords will be back serving Southern Arizona in some capacity. Just what that role will be will become clearer over time.