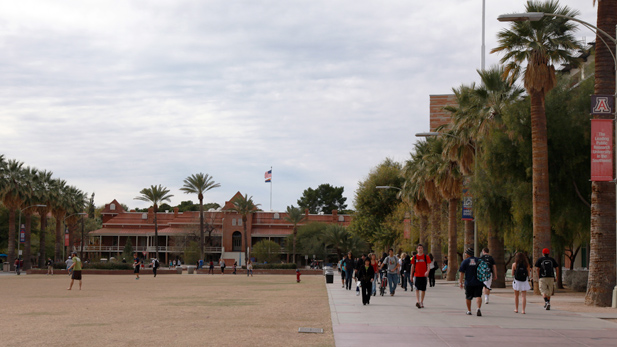 PHOTO: Fernanda Echavarri
The University of Arizona
State government contributions to higher education are in decline across the nation, according to a study by Illinois State University. The report says contributions to higher education are down 8 percent nationally this year.
In Arizona, higher education saw a $170 million cut in state funds last year, a cut of 25 percent, second highest in the country.
For The University of Arizona, it's about keeping competitive programs and quality education despite having less funding. For Pima Community College the cuts mean having to balance the budget while keeping tuition affordable.
Some of the losses in funding for higher education can also be attributed to the expiration of the 2009 American Recovery and Reinvestment Act, also known as stimulus funds.
Budget cuts in Arizona have been deeper than in most states which has forced the UA to eliminate some programs, consolidate colleges and layoffs, says Jaime Gutierrez, UA's vice president of external relations.
At PCC, in the past two years funding has gone down almost 70 percent, says C.J. Karamargin, vice chancellor of public information.
"We are feeling the pinch as a result of this," Karamargin says.
Although it's too soon to tell what will happen in the legislative session this year, both institutions hope for an increase in state funding.