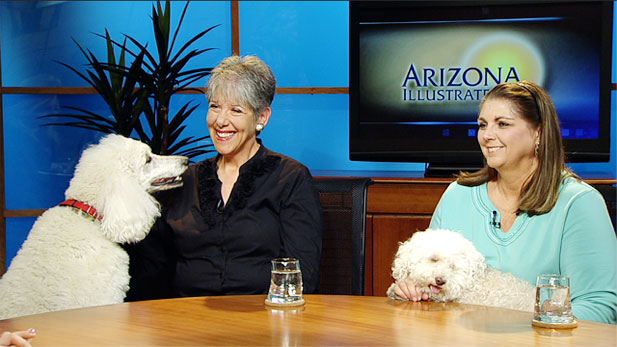 PHOTO: AZPM
Diane Alexander (left) with her poodle Ella and JoAnn Turnbull with Chablis volunteer for Delta Pet Partners.
Numerous studies have proven that the company of a pet may decrease heart rate, lower blood pressure and even relieve pain. And those benefits are at the foundation of Delta Pet Partners, a national organization committed to helping people have happier, healthier lives through contact with pets.
Delta Pet Partners introduces its animals to people in hospitals, schools, physical therapy centers and libraries, where the specially trained pets interact.
"Research has shown that when you bring a therapy animal to visit a person, that their blood pressure can go down, their stress anxiety can go down, as well as they can forget about pain, and we can also help kids learn to read," says JoAnn Turnbull, a volunteer with the non-profit organization.
For Diane Alexander, the choice to volunteer came when she adopted her standard poodle Ella, who is now her pet partner and teammate.
"I think the animal first has to really love people, that would be No. 1," says Alexander, adding that temperament and general obedience classes help to make the perfect pet partner and volunteer.
To find out if your pet would make a good therapy animal, and other ways to volunteer visit Therapy Animals Az.