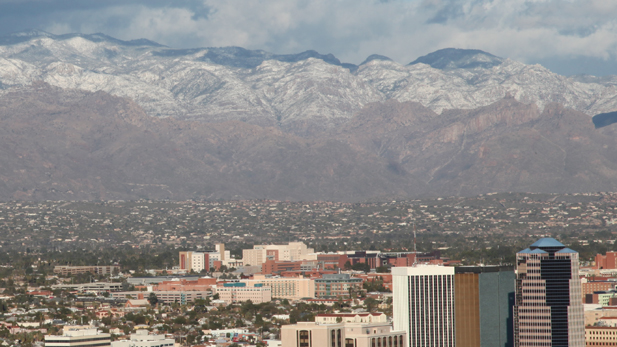 PHOTO: Mark Duggan
View of the Santa Catalina Mountains as the storm clears.
The regional planning group Imagine Greater Tucson is asking the public to help plan for what the group says is inevitable growth in the Tucson metropolitan area.
The region is home to about 1 million people now, and the IGT planning process is asking how to add another 1 million. The group isn't working on a set time-frame for how long it will take the population to double but says it's time to plan for that now, instead of waiting until it's just around the corner.
The question of how to grow is vital, says Beth Walkup, executive director of IGT, because if the region follows the current trend of growing outward on undeveloped land, it will require another 200,000 acres for development. One of the proposed alternatives is growing up, instead of out, by adding multi-story buildings and planning where those developments occur, Walkup said.
IGT is asking the public to weigh in on the options by taking a survey, online or on paper at a local library branch. The survey is about more than just how to physically add more people to the region; it also asks about other lifestyle choices associated with growth, said Iris Patten, an Imagine Greater Tucson board member.
"In addition to the actual footprint of where this growth would occur, other things we've examined during this entire process is how we actually get people around. Is automobile usage the only type of transportation method that we'd like to include?" Patten said.