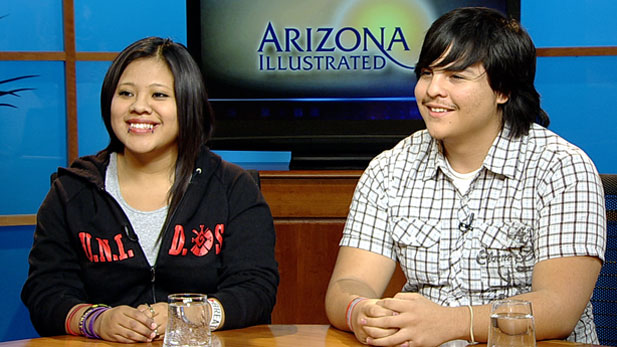 PHOTO: AZPM
UNIDOS members Mayra Feliciano (left) and Danny Montoya (right) discuss their continued involvement with Mexican American Studies.
Former students of Tucson Unified School District remain involved in the battle to bring back Mexican American Studies classes through a group called UNIDOS.
UNIDOS was formed at the beginning of the Mexican American Studies controversy in 2010 by then-TUSD students. Most of the members of UNIDOS are now TUSD graduates who continue to be the driving force behind most protests, walkouts and organized events in support of the classes.
Mayra Feliciano, with UNIDOS, says members feel a bias in the school and the state against teachings of Mexican history and culture.
"We live in a state where there is a lot of history, Mexican history, and they are trying to do away with it like if it's going to go away," Feliciano says. "We're not worth as much as a white student in the class where they could learn their history. We can't learn our history or our culture."
UNIDOS means "united" in Spanish and stands for United Non-Discriminatory Individuals Demanding Our Studies.
The TUSD governing board voted 4 to 1 to immediately shut down all Mexican American Studies classes Jan. 10. Adelita Grijalva was the sole vote to continue the classes.
John Huppenthal, the state's school superintendent, ruled in December that TUSD's Mexican American Studies classes were in violation of the law. If school officials had not eliminated the classes they could have lost about $14 million in state funding.