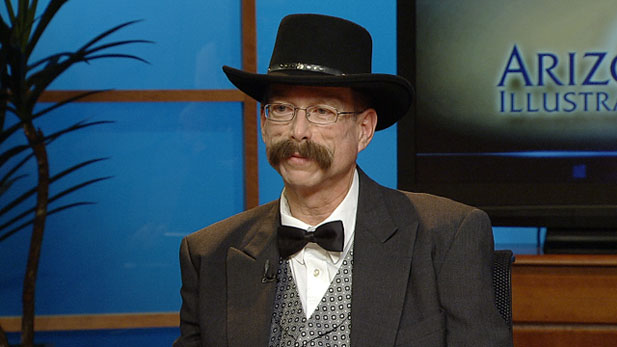 PHOTO: AZPM
Van Fowers is a historical re-enactor dressed as John Brackett "Pie" Allen, a businessman, legislator and Tucson mayor during the state's territorial days.
Imagine being able to travel back in time, to a century when Tucson was still a territory. The Fort Lowell Day Celebration, hosted by the Fort Lowell Neighborhood Association, aims to do just that.
Saturday will mark the 31st annual Fort Lowell Day Celebration, boasting walking tours of the historic neighborhood, re-enactments of prominent figures in Tucson in the 1860s and hands-on activities for adults and children, all for free.
"It is a happy marriage of entertainment and education," says co-organizer Lynn Ratener.
This year, visitors will be able to chat with legendary John "Pie" Allen, as re-enacted by co-organizer Van Fowers. Allen provided sweets like his famous apple pies to the soldiers stationed at Camp Lowell in the 19th century.