Story by Fernanda Echavarri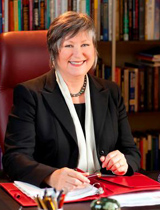 (PHOTO: Arizona Board of Regents)
Ann Weaver Hart, president of Temple University, was named "the candidate for the president of the University of Arizona," the Arizona Board of Regents announced Tuesday.
Hart, if given final approval, would replace interim President Eugene Sander. Sander was named last year to temporarily replace Robert Shelton, who resigned after five years to become executive director of the Fiesta Bowl.
Last time the UA search committee elected a president, four final candidates visited the Tucson campus before Robert Shelton was appointed. This time, Regent Rick Myers says Hart is the "person regents are pretty comfortable with."
Hart has been president at Temple, in Philadelphia, for six years. Previously, she was president of the University of New Hampshire and provost and vice president for academic affairs at Claremont Graduate University. She also served in several administrative and faculty positions at the University of Utah.
"Dr. Hart is a dynamic leader with a distinguished resume and an impeccable track record of successfully managing and advancing world-class research institutions," said Board of Regents Chair Fred DuVal. "We are extremely pleased that Dr. Hart has agreed to pursue the presidency at the UA. Her extensive background as an accomplished chief executive officer and experience in academic medicine will be a tremendous asset to the UA and the entire state."
Hart would be the University of Arizona's first female president.
The regents' announcement said Hart will visit the UA campus next Monday to meet with students, faculty, staff, administrators and members of the public before the board makes its final decision.
Hart received a bachelor of science in history, master of arts in history, and a doctorate in educational administration from the University of Utah.