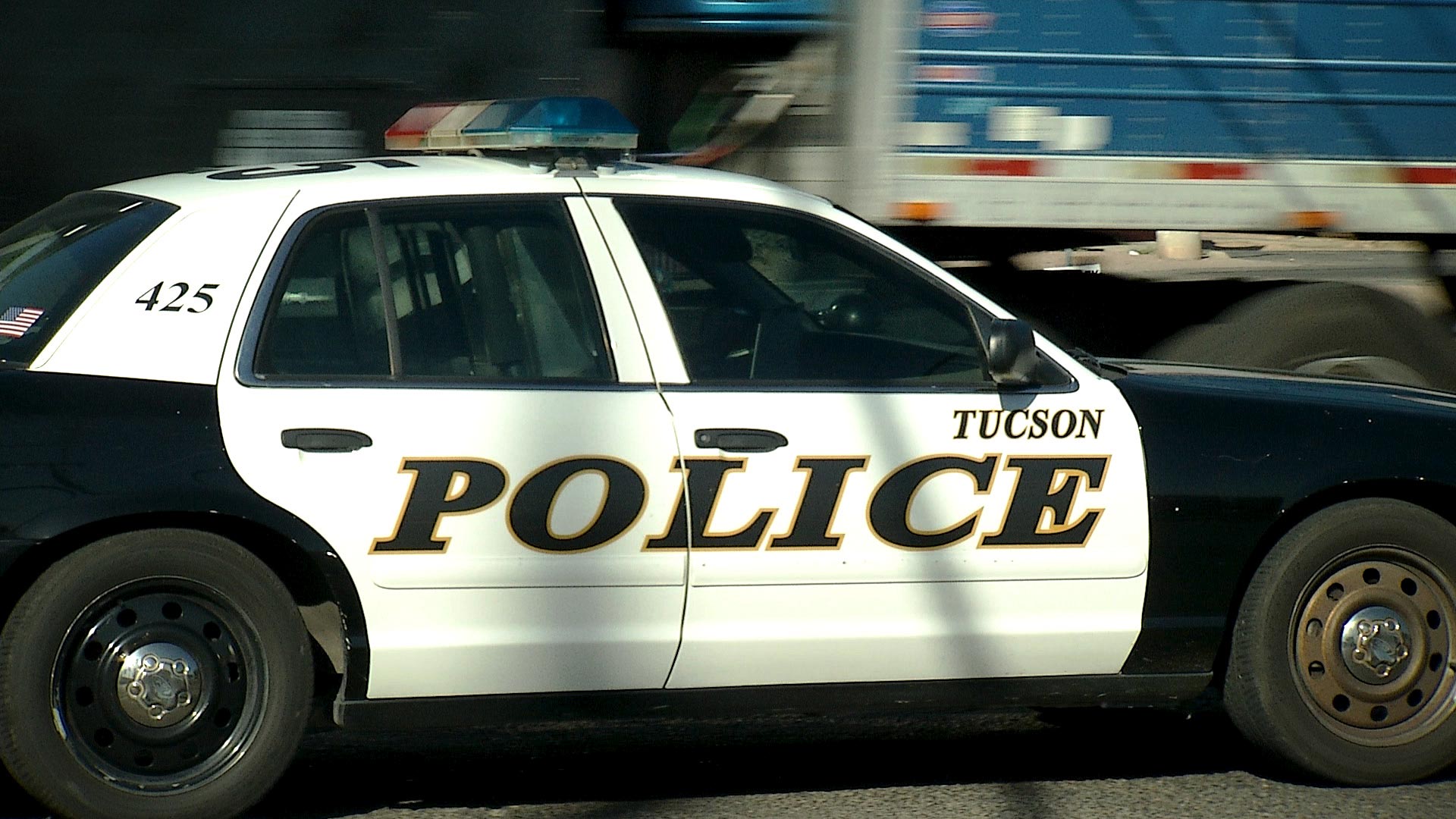 A Tucson Police car on patrol.
AZPM Staff
Only about one in every thousand Tucson police interactions lead to an officer using physical force, such as punches, neck holds, shoves or Mace. But when things do get physical, the person on the receiving end is more likely to be Black, relative to the city's overall population.
Tucson police use force against Black people at four times the rate of white people, according to data released this week by the Tucson Police Department. TPD released the data to increase transparency of the department amid calls for greater police accountability following the death of Carlos Ingram-Lopez in TPD custody in April.
About 5% of Tucson's population of 548,000 is Black, yet when policing involves punches, Tasers, dogs or guns drawn, Black people are on the receiving end 17% of the time. The data mirrors previous findings that Tucson police disproportionately arrest and shoot Black people.
Since 2018, the Tucson Police Department has reported over 2,100 uses of force. Those figures reflect the total number of acts of force Tucson police recorded, meaning if an officer drew their weapon, slapped and body-pinned one person in the same interaction, that may be counted as three separate acts of force.
Similar disparities also exist for Native Americans, who are subject to force at two and a half times the rate of white residents. Use of force against Hispanics was roughly proportionate with the group's share of the Tucson population.
Tucson Police Chief Chris Magnus said the department isn't exactly sure why the disparity exists, but that the figures largely mirror systemic disparities across society.
"This is probably bigger than the police department," he said. "There are racial disparities that go well beyond policing. I think it's pretty clear. They're present throughout the criminal justice system, and frankly, in many other systems as well."
But Jared Keenen, a criminal justice attorney for the American Civil Liberties Union of Arizona said focusing on problems in society downplays the role of racism in the Tucson Police Department.
"I don't know how you could end up with any other sort of conclusion than they are engaging in anti-black policing," he said. "It should be unacceptable to the people of Tucson."
He said the department's efforts to curtail use-of-force disparities — centered around community outreach, cultural competency training and reviewing uses of force — aren't sufficient unless the department is willing to change the way it polices.
"If the police are engaging in in more contacts with with Black people in Tucson, obviously that's going to lead to more uses of force. But that's still on the police because they're engaging in police tactics that over-police these communities."
Magnus agreed the disparities are "unacceptable" and said the department only learned about the them in recent months, as its new data analysis division has come online. He said the discovery has prompted plans to further explore the reasons officers use force.
"Some of the things that we want to explore now are where the calls are occurring that result in force being used? What are the circumstances for the use of force? Right now, some of that's going to require further review than just what the current data we have can tell us."
He said the department would also review whether certain officers are using force disproportionately.
Around half the time officers use force, it's because they believe someone has committed a crime. One in five uses of force occur because someone is being detained or resisting arrest. An officer drawing their handgun is the most common method of force.
Tucson's policing is somewhat more proportionate than Phoenix's. The Arizona Republic revealed last month the Phoenix Police Department uses force against Black people and Native Americans at five times the rate of white people.
While the Republic fought for a year to get the police to relinquish the use-of-force records, Magnus said TPD is committed to releasing more data in the coming months to provide a more empirical look at how the department does its job. Datasets on police activity and reported crimes are expected to release later this month, followed by arrests, traffic collisions and traffic enforcement.
"Why would we even seek out and publish this data If we weren't committed to addressing the issue?" he said.