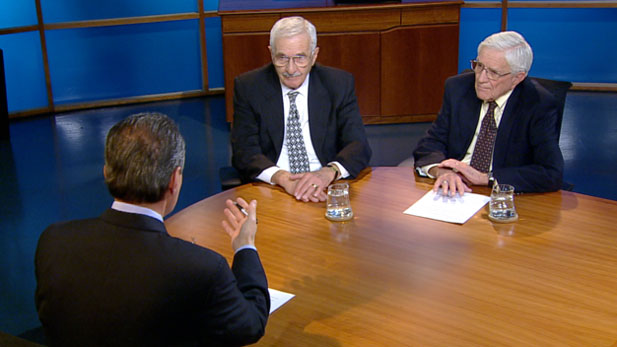 PHOTO: AZPM
Stanley Feldman (left), former chief justice of the Arizona Supreme Court, and Charles Ares, dean emeritus of the UA College of Law, on Arizona's constitution.
Arizona started statehood 100 years ago under a progressive constitution that overrode the traditional business interests in the state, two legal experts say.
Charles Ares, dean emeritus of the University of Arizona College of Law, and Stanley Feldman, former chief justice of the Arizona Supreme Court, discuss the constitution and state legal issues in previewing their contributions to a Sunday panel discussion in Tucson as part of centennial festivities.
Arizona turns 100 as a state on Tuesday, Feb. 14, and Feldman says it marks an era when the new constitution was controversial.
"It was so progressive that the president of the United States first rejected it," Feldman says.
Ares agrees, saying Arizona politics in 1912 were a product of a movement that swept over the state's long-seated business interests.
"The Arizona Constitution was produced at the height of the progressive movement," Ares says. "The progressive movement had moved into Arizona. Although this state had always been under control of railroad and mine interests, somehow the progressive movement resulted in a constitutional convention that was dominated by progressives. So they produced a constitution that was very different from other states."
Feldman says those progressive provisions included the ability for the people to approve constitutional amendments and laws by initiative and referendum, free education through high school and college education that would be offered "as free as possible."
Feldman says he thinks the constitution is in good shape for the next century of statehood, but he would prefer a return to the original.
"If I had a magic wand, I would wave it and go back to the original constitution as it was written, because it was very good ... ," he says. "I think it would be a lot better if we took off a some of the itty-bitty amendments that have been added over the years, covering things like ambulance service. We don't need that."
Feldman and Ares will appear as part of the panel discussion, "Arizona Constitution and Civil Liberties," Sunday starting at 2 p.m. at the Scottish Rite Cathedral, 160 S. Scott Ave. in Tucson.