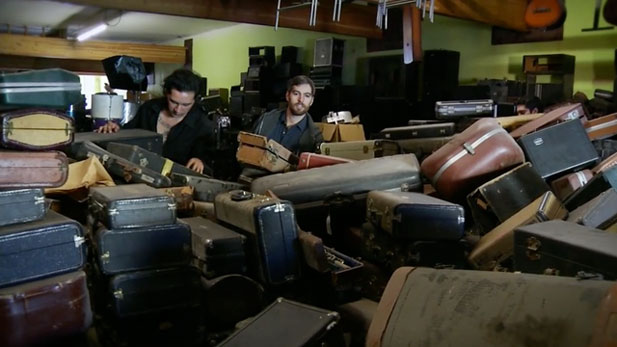 PHOTO: AZPM
Gabriel Sullivan and his collaborative music project Taraf de Tucson have started to make some noise around Tucson.
Gabriel Sullivan & The Taraf de Tucson has been described as a "blazing nine-piece ensemble that creates a swirling, sweaty, danceable noise."

Bandleader Gabriel Sullivan cut his teeth as a teen in Tucson's punk scene, but his musical restlessness kept him seeking out new sounds. "It's been fun discovering music from around the world," Sullivan says.

"Folk music, Gypsy Balkan music, cumbia from Peru from the 60's, Chicha Music, they somehow seem to all mesh so well. This band is an exploration of how far we can go bending all this stuff so it fits together."
Arizona Public Media caught up with Sullivan and a couple of his band mates, at Chicago Store in downtown Tucson. The historic landmark holds an important place in Sullivan's heart and he says the eclectic nature of the instrument collections in the attic represent the spirit of The Taraf de Tucson, as well as the city's thriving musical community.
"I don't think I could ever leave this place because the flow of creativity in the [musical] community is so natural, and everybody can contribute to each others projects and add their flavors, and before you know it you have some new band that could only happen here in Tucson."
Full length acoustic performances recorded live at Borderlands Brewery, 02-03-12. Audio engineer: Jim Blackwood