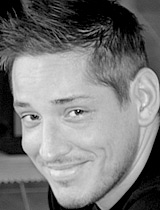 Morgan Lucas Schuldt
When I first met and interviewed writer Morgan Lucas Schuldt in the summer of 2010, I called him "a champion for the power of language", so impressed was I with his dedication to his craft.
In addition to his own poetry, he worked hard to get the work of other writers he admired into print, and he ran a literary journal called CUE which gave all of their voices a platform.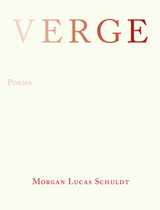 Morgan Schuldt's debut collection of poems was published in 2007
Morgan was also known for his ability to give encouragement and constructive advice to struggling artists, qualities that seemed to come very easily to him.
Morgan Schuldt achieved all of this while constantly facing his own mortality, because he was born with the incurable disease cystic fibrosis. Morgan died on January 30th, 2012. He was only 33 years old.
In his honor, his friend and colleague Kiki Petrosino, now an assistant professor of English at the University of Louisville, wrote a brief essay which she recorded at NPR station WFPL in Louisville, Kentucky.
Listen:
Saturday, February 11th, 2012 would have been Morgan's 34th birthday.
His blog, A Peek of Reach, persists.