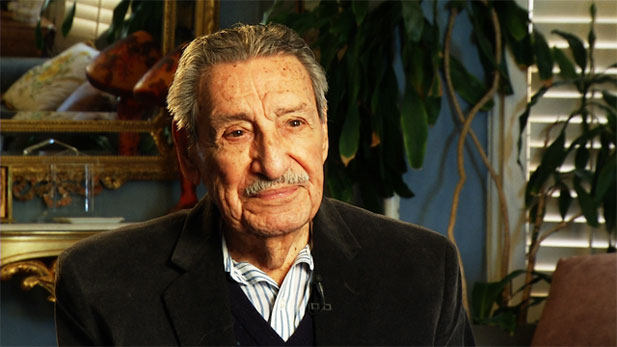 Former Arizona Governor Raúl Héctor Castro gives his input on the current the state of Arizona politics. (PHOTO: AZPM)
Former Gov. Raúl Castro's life covers nearly the century that Arizona has been a state, and he proclaims much positive change in society in that time.
Castro, 95, and living with his wife Pat in Nogales, sat for an interview for Arizona Illustrated. He discusses his upbringing in a state that segregated Mexican children from whites in schools to one in which he grew to symbolize the opportunities presented by becoming the first governor of Mexican descent.
He was elected in 1974 and served two years before resigning to become ambassador to Argentina under President Jimmy Cater.
"What those things did to me were a challenge," Castro says. "To have those things occur, even though I was young, just a child, I said, it's not right. Why should it be this way? So that's my first motivation to make me move ahead."
Today, Castro says, opportunities abound for all.
"Employers are now more ready and more willing to employ people of Mexican descent for jobs," Castro says. He describes his college years when he would spend summers in Douglas working for copper operations "getting paid half" of what Anglo workers made.
"Those things have changed. They no longer exist," he says.
At the same time, no one of Mexican descent has been elected Pima County attorney since Castro was elected and no governor of Mexican descent since he won that office.
"Some of it can be attributed to lack of interest or timidity on the part of Mexican families," he says.
He recalls walking into a Tucson barber shop and hearing young Mexican men complaining about discrimination, so he challenged them.
"You guys are doing a lot of talking, but what are you doing about it?" he says he asked them. "You're not doing anything. I'm going to run for county attorney. They said, 'You're crazy. Who's going to vote for you? Nobody's going to vote for you. You're born in Mexico of Mexican parents.'
"I said, 'Who's tried it. Have you tried it? No. Have you? No,'" Castro says, showing how he pointed to one, then another. "'I'm going to try it.' I tried it and I won."
Despite gains he and many others of Mexican descent have made in Arizona, Castro says the current political atmosphere in the state is not good for Mexicans or Mexican-Americans.
"The query is that no one believes that jumping over a fence is right. No, it's wrong. And no one believes that digging tunnels to get into the country is right. It's wrong. No one believes that making holes in the fence is right," he says. "Everybody recognizes it's a crime, and if they get caught, they ought to be punished.
"But the query is, if they're going to be punished, do it humanely in a humane way, not in a critical way.
"The query is profiling," Castro says. He tells a story of a time when he was a Pima County Superior Court judge, the first person of Mexican descent elected to a judgeship, Border Patrol officers almost arrested him as he painted a fence in front of his house. When they realized he was a Superior Court judge, they fled, he says.
"Even though the law provides no profiling, do you think if I had been blue-eyed and freckle-faced, they would have stopped me? Of course not."
Former Arizona Governor Raul Castro reminisces the past 95 years of his existence, almost reaching Tucson's one hundredth birthday and explains memories of his life in Mexico and Arizona and the motivations that helped him move ahead. (VIDEO: AZPM)