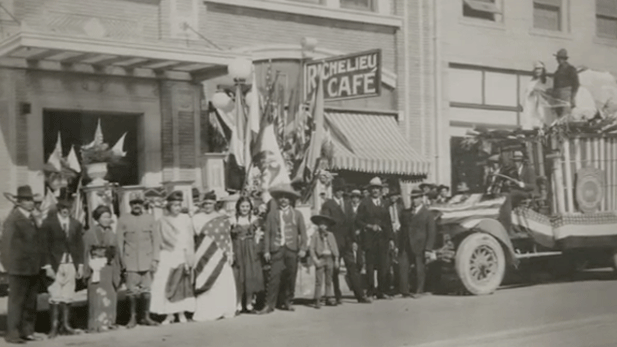 PHOTO: AZPM
Historian and University of Arizona Mexican American Studies Professor Lydia Otero, talks on the past and present time of Tucson's multicultural development through the city's centennial existence referring to her novel, "La Calle" and the permanent photo exhibit in the Joel Valdez library in downtown Tucson.
One hundred years ago a headline in the local paper heralded Arizona's statehood. President Taft presided over the ceremony.
Lydia Otero is a historian and an associate professor in the Mexican American Studies department at the University of Arizona. She shares a birthday with the state, and says that inspired her deep interest in history.
"I remember in fourth grade being a Lynn Urquides School and standing next to a big flag of Arizona and my teacher and the class singing happy birthday," Otero says.
Otero's interest in the history of Arizona led her to write a book called La Calle, Spatial Conflicts and Urban Renewal in a Southwest City. The book chronicles the city of Tucson's destruction of a neighborhood in downtown Tucson in the 1960's. Otero says the foundations for the demise of this neighborhood can be traced to when Arizona became a state in 1912.
"You have big changes coming to Arizona as it becomes a state," says Otero. "Mexican Americans respond to a degree by becoming 'Americanized,' but they also resist and move to their own communities and create their own communities."

Otero's book depicts the project that is now viewed by urban planners as a model for a thriving community. An exhibit at the downtown Joel Valdez Library commemorates the displaced community in a permanent exhibit.
Archival film footage and photos courtesy of the Arizona Historical Society.