"This will be the first of many events that celebrate the 50th anniversary of KUAT and PBS in Southern Arizona in 2009," said Jack Gibson, Director and General Manager of Arizona Public Media. "It's a perfect symbol of what PBS represents: news, information, and entertainment that makes history and brings our community together."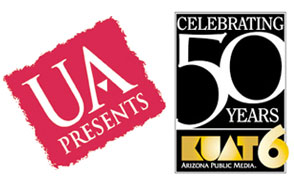 Natalie Bohnet, Executive Director of UApresents added, "UApresents is thrilled to partner with Arizona Public Media on this exciting event. Centennial Hall was built for the students, faculty and staff. We look forward to providing more opportunities to share this historic building with the University community."
![Centennial Hall on University of Arizona campus][centennial-hall-focus]
Centennial Hall is located on the University of Arizona Campus. From the corner of Park Avenue and University Boulevard, proceed east through the Main Gate of the University. Centennial Hall is the second building on the right. Doors will open at 8:30 a.m. and seating will be on a first-come, first seated basis. The inauguration ceremony is scheduled to begin at 10 a.m.
Paid parking is available. The U of A Transportation and Parking Department suggests parking at the Tyndall Ave. Garage. On Tues, January 20th the garage will sell parking passes starting at 8 a.m. good for 3 hours of parking for $4. From the intersection of Park Avenue and University Blvd. travel west one block to Tyndall and turn left (south) on Tyndall to access the Tyndall Garage. Centennial Hall is approximately 1½ blocks east from Tyndall Garage.
Handicapped visitors can be dropped off in front of Centennial Hall, but are still encouraged to have the person driving park at the Tyndall Garage. The "Handicap" spaces in the Centennial Lot are for the exclusive use of UA Disabled Permits only.
Arizona Public Media will broadcast the Inauguration live on KUAZ 89.1FM/1550 AM with coverage starting at 8:00 a.m.
The Inauguration will also be aired live on KUAT6, PBS-HD and PBS World and will also be available through streaming video on our Web site.