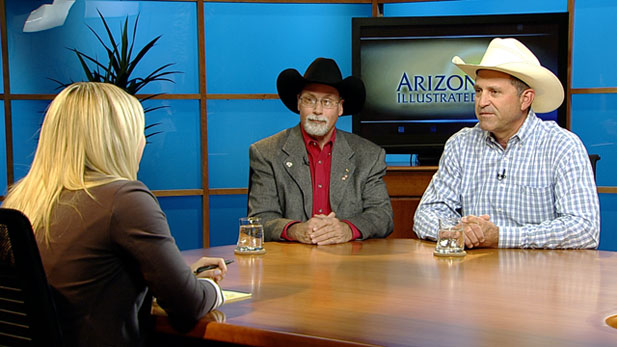 PHOTO: azpm
Tucson Rodeo Committee Chairman Bill Schurg (left) and rodeo cowboy Joe Parsons on La Fiesta de los Vaqueros.
The state of Arizona was only 13 years old when Tucson residents held their first rodeo in 1925. Since then, La Fiesta de los Vaqueros has grown substantially to become one of the most popular annual celebrations in Southern Arizona.
Organizers say it has also developed into one of the top rodeos in the world and provides an economic boost to the community.
Bill Scurg, Tucson Rodeo Committee chairman, says the annual gathering of cowboys and spectators from different countries and states provides local residents with a wonderful opportunity to have fun and learn about our past.
"It's a great opportunity to express our Tucson Western heritage to the public and to our community," Scurg says.
Joe Parsons is one of the many cowboys who will be demonstrating his skills at the event. Parsons got his professional card in 1976 while still a student at the University of Arizona, and he's never looked back. He competed from 1976 until the 1990s, when he took a temporary break from the arena while his children were attending school.
Eventually, the kids followed in their father's footsteps and also got their rodeo cards. Parsons got back on the saddle after that.
"That's what we do. We rodeo. We're in the agriculture business and we rodeo," Parsons says.
Organizers say there are seven major events in the main rodeo but there is also a junior rodeo and other activities, including a barn dance every day, food and entertainment.

La Fiesta de Los Vaqueros Tucson Rodeo begins on Saturday and runs until Feb. 26. It is held at the Tucson Rodeo Grounds at 4823 S. 6th Ave. This year's gathering is one of the official events around the state as part of the year-long Arizona Centennial Celebration.