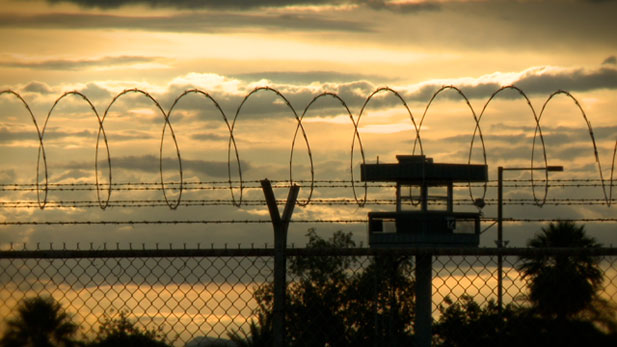 PHOTO: AZPM Staff
An Arizona Quaker group is criticizing the safety, quality and cost of private prisons in Arizona and calling on the state to stop privatization expansion.
Six Arizona prisons are operated privately by Corrections Corp. of America.
American Friends Service Committee representatives say the report is the first of its kind to be completed in Arizona, and reveals widespread and persistent problems in private facilities.
AFSC Private Prison Report: View at Google Docs | Download File
Caroline Isaacs, program director for AFSC in Arizona, says private prisons under contract with the state cost more than equivalent units operated by the Department of Corrections. The group estimates that in 2009 and 2010, Arizona overpaid for these units by as much as $7 million.
"The profit motive is at odds with what we think of as the purpose of a correctional institution which is to correct behavior," Isaacs says. "'Correct' meaning reduce crime, reduce recidivism and see that people do not return. Well, if they do not return and your bottom line is dependent on filling beds then there is the incentive for the state to send those folks (to prison)."
Isaacs says there is a tension created between the role the state Department of Corrections must perform and "a whole other set of criteria that is determined by shareholders that in many cases aren't even based in Arizona."
Privatization advocates play down the report.
"There is a mixed bag of research out there," says Steve Owen, spokesman for the largest operator, Corrections Corp. of America. "It's not as black and white and cut and dried as we would like."
Owen contends the industry saved money, and he cites a study, partly financed by the industry, that found states with private prisons had lower growth in public prison costs.