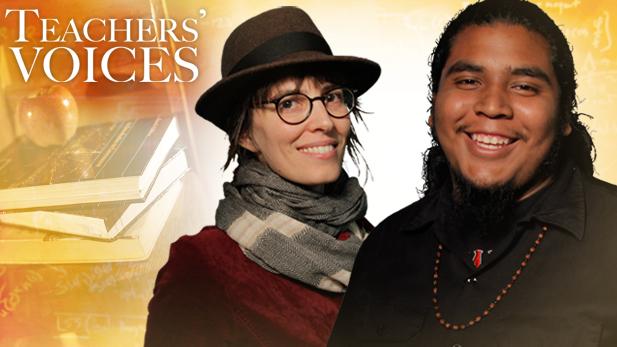 City High teacher Sarah Bromer (L) and her former student Cyrus Tucker, who is now a teacher himself (PHOTO: Steve Riggs)
In cooperation with Tucson Values Teachers, Arizona Spotlight presents a special series called Teachers' Voices. These conversations between educators, administrators, and students gives them a chance to share personal stories about the struggles and triumphs of their daily school experience.
We've all heard stories about students who reach high school without being able to read at the level expected of them. For Sarah Bromer, a reading teacher at Tucson's City High School, its something that she sees every semester.
Cyrus Tucker was a student who cared little about learning to read, because he was much more interested in things like his favorite band, Iron Maiden, or the art of tattooing.
So Sarah tried something different with Cyrus. She said it was okay for him to explore his interests in the classroom, he just had to do it through reading...
Listen:
Cyrus Tucker is now teaching classes in art and music at The Wildcat Charter School in Tucson. Sarah Bromer recently produced a radio story about Tucson musician and presidential hopeful Al "Dick" Perry which will air February 24th, 2012 on Arizona Spotlight.
Teachers' Voices will air bi-weekly throughout 2012 on Arizona Spotlight, funded in part by The Arizona Department of Education and Cox Communications.