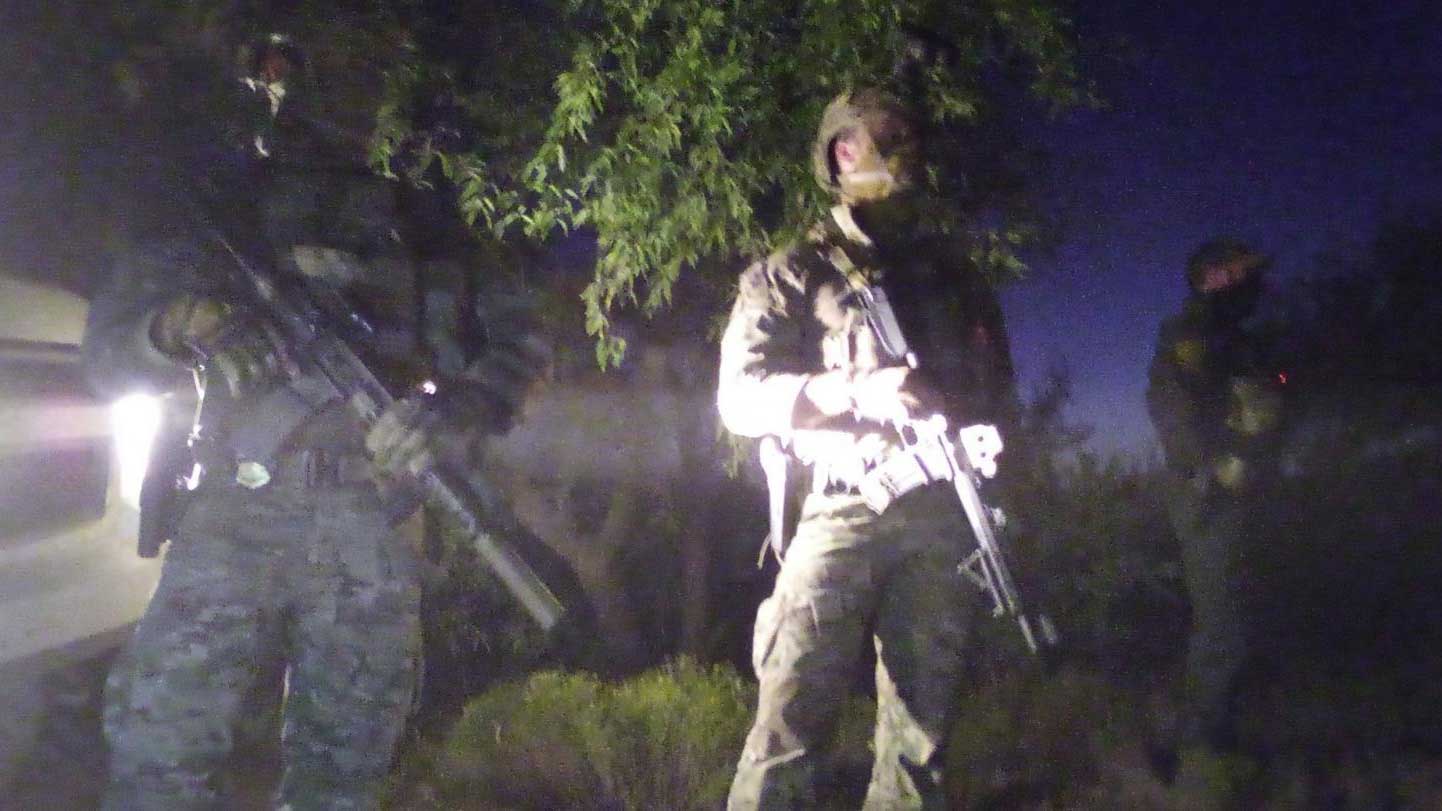 No More Deaths says this agent was armed in the camp.

No More Deaths
U.S. Border Patrol agents raided a humanitarian aid camp in Southern Arizona on Monday evening in an escalating tension between the federal agency and No More Deaths, a nonprofit organization that was created when the U.S. government couldn't slow the number of migrant deaths along Arizona's border.
Border Patrol Tucson Sector chief Roy Villarreal posted images of those detained at the Arivaca No More Deaths camp to Twitter.
He said agents never know who they may encounter, suggesting the group of men who were wearing camouflage could be sex offenders or gang members the agency says try to illegally enter the U.S. through the southwest border. He accused No More Deaths of harboring, a term for a federal crime, and said the "illegal aliens'" health status is unknown during the pandemic.
Illegal aliens discovered at No More Deaths Camp wearing camouflage. Multiple sex offenders, multiple gang members apprehended this year attempting to illegally enter our country. You don't know who you'll encounter. pic.twitter.com/l3djT7Vg0Y

— Roy D. Villareal (@USBPChiefTCA) October 6, 2020
Montana Thames is a No More Deaths volunteer.
"They broke into our office with a crowbar. Took our phones that were in there and took some paperwork that was in the office. Then proceeded again to trash the place," she said.
It's the second time agents have raided the camp since July. No More Deaths has long maintained it had an agreement with the Border Patrol that allowed it to run the aid camp. It's also been critical of the agency, releasing videos of agents trashing aid supplies and condemning the agency's involvement in Portland for example last summer. The agency has not publicly acknowledged whether it's had an agreement but it hasn't denied it either.
Rachel Gore Freed is vice president of the Unitarian Universalist Service Committee, which funds No More Deaths. She thought the raid, which resulted in 12 deportations but no arrests and no criminal charges, was driven by the Trump administration.
"This seems suspiciously close to the election that he is doing further work to criminalize those providing aid at our border," she said.
Twelve people were found to be in the country illegally, the agency said in a statement, and seven volunteers were detained but then never charged. It's unknown whether the agency will file charges later in the case.

Fronteras Desk
is a
KJZZ
project covering important stories in an expanse stretching from Northern Arizona deep into northwestern Mexico.