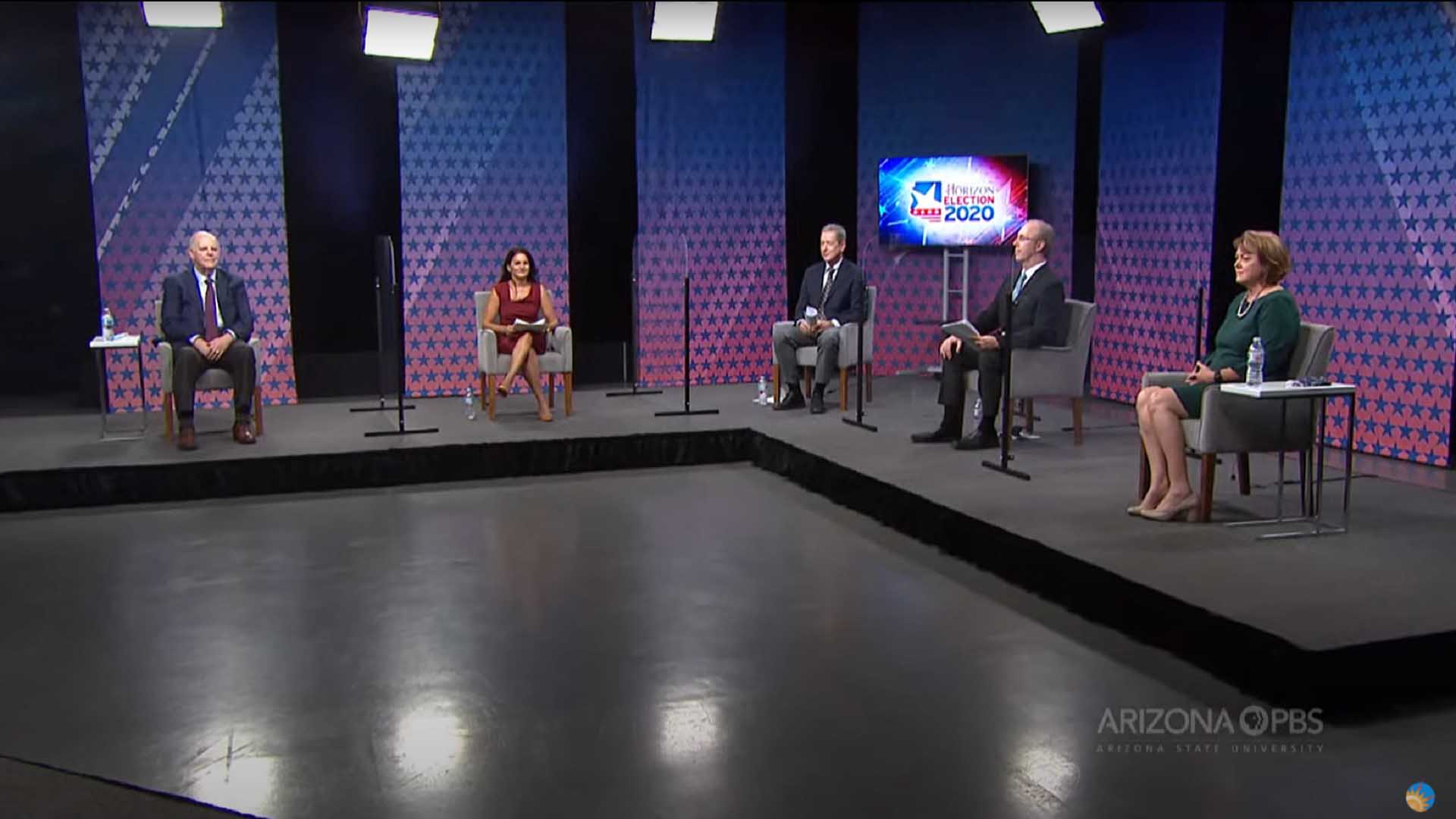 Rep. Tom O'Halleran, left, and Republican challenger Tiffany Shedd, right, debate on Arizona PBS, Oct. 8, 2020.
Still image from Arizona PBS video
Arizona's 1st Congressional District is one of the largest and most diverse in the country.
In the coming election, voters will choose between two candidates who each claim to represent a broad range of concerns.
The sprawling 1st District reaches into the Phoenix and Tucson suburbs, touches 11of the state's 15 counties, and goes all the way to the state's northeastern tip at the four corners.
Since 1940, it's been represented in Congress by seven Republicans and five Democrats. The current congressman, Tom O'Halleran, has a bipartisan history of his own. He served as a Republican in the state Legislature before switching parties in 2015, and being elected to the U.S. House the next year as a Democrat.
Republican challenger Tiffany Shedd is a farmer, lawyer and small-business owner based in Eloy. This is the second time she's run for Congress from the 1st District. Her website describes her as a "constitutional conservative."

In a debate on Arizona PBS, both candidates were asked about the coronavirus pandemic. O'Halleran blames the Trump Administration for what he called the government's inadequate response. "We've had the money all along to be able to have testing, tracing, and the vaccine issues. We're still short of tracing. We're still short of testing. Our schools are starting to open, our children that are not protected the way they should. The elderly community, nursing homes, they had problems too and they still aren't ready," O'Halleran said.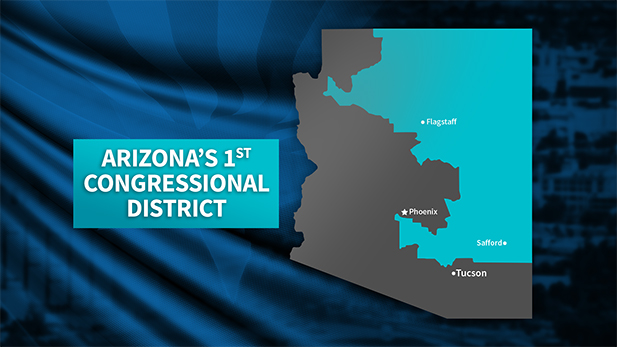 Tiffany Shedd blames the House Democrats and Speaker Nancy Pelosi for the standoff, because, she says they're trying to use a coronavirus relief bill as a vehicle for all their pet projects. "It's got a bunch of pork in it like free payments to illegals, and 600 million shifted that could have went to police, and ballot harvesting, and things that have nothing to do with actually helping the people," Shedd said.
Shedd says the stalemate over a relief package illustrates the kind of problem in Washington that she wants to solve, if elected.

"To me it seems like Arizonans have waited long enough. That's why I'm running. I'm frustrated, and it's like, you know what, why can't you all get together and do the things that matter? We know what industries are hurting. We know where the money needs to go, but instead we use it as a vehicle for some sort of progressive socialist wishlist," she said.
O'Halleran rejects Shedd's claim that he's a tool of progressive Democrats, pointing to a Georgetown University report that lists him as one of the most bipartisan members of the House.
"I've always consistently worked bipartisan when I was in the Legislature and now. And I've gotten good results year after year after year. I don't go up and check with Nancy Pelosi or any other leader on the way I vote. I vote for Congressional District 1 and the people I represent," he said.
The district does not include any part of the U.S.-Mexico border. Nevertheless, the border wall came up. The wall currently being built across the Tohono O'odham Nation, which borders Mexico, raises issues of sovereignty that many Native Americans are sensitive to. Neither candidate gave a ringing endorsement of the wall, but Tiffany Shedd says the U.S. has a right to protect its border, as a matter of national sovereignty.
"The treaties that the tribes have are with the United States of America, they're not with Mexico. And even within that sovereignty there's a conflict of law where the United States of America has to be able to protect its borders. Now that being said of course we want to honor that sovereignty that culture as much as possible," Shedd said.
O'Halleran again blames President Trump and the Republicans for shortchanging Indigenous peoples, as they did in the first pandemic relief package, early this year.
"We asked for $20 billion in funding for COVID. They said zero. We finally had to settle $8 billion. That's the money that went to Navajo and other nations in this state," O'Halleran said.
O'Halleran says that immigration reform is needed, and notes that it came closest to becoming reality seven years ago, when Democrats controlled the U.S. Senate. "It was there in 2013 and the House refused to vote for it. It came out, super majority, in the Senate," he said.

Read more coverage of national, Arizona, and local elections at our 2020 elections portal,
Your Vote 2020
.