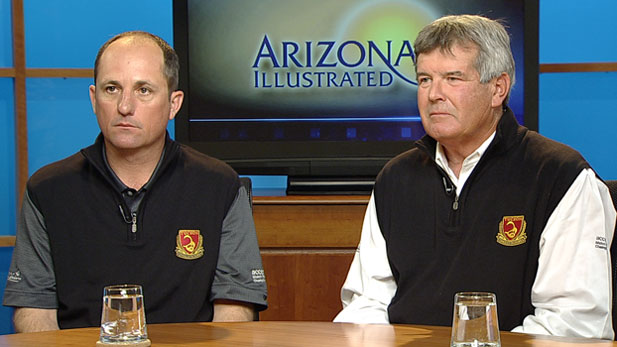 PHOTO: AZPM
Tucson Conquistadores Rocco Bene (left) and Dan Meyers discuss the Accenture Match Play golf tournament in Marana this week.
The top 64 golf players in the world are in Southern Arizona for the annual Accenture Match Play Championship at the Ritz Carlton Golf Club in Marana.

They will attract international attention and help provide funds for local children in the process.
Tournament chairman Rocco Bene of the Tucson Conquistadores, says the event's economic contribution to Southern Arizona will be big.
"There's a lot of ways to look at it. I think for our economy of Tucson you're looking at $30 to $40 million. But if you're looking for us, the Conquistadores, which we'll use those funds to raise money for charities, you're probably looking at about 1.5 million," Bene says.
The Conquistadores is a civic group of men that has been around for decades raising money for youth sports. One program is the First Tee of Tucson, which introduces kids to golf and teaches them values of confidence, responsibility and perseverance.
"It's very important to us," says Dan Meyers, First Tee's local president. "Right now, it's our primary means of support, and we're in the process of putting together a golf marathon on March 24 to supplement that."
The Accenture Matchplay Championship begins Wednesday and concludes with the championship match on Sunday the 26th. First prize is $1.44 million.