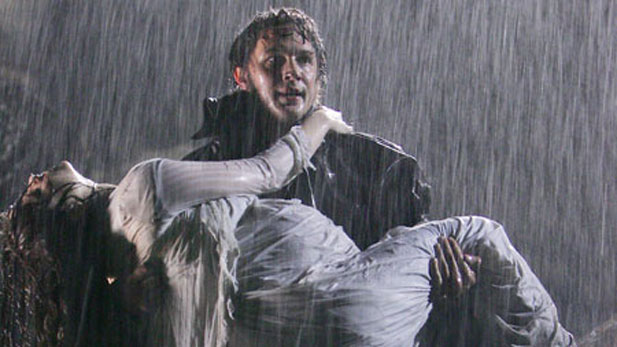 In one of the great romantic tales of all time, a man without a past pursues his childhood soulmate and seeks vengeance against his family. Set on the English moors, the two-part series stars British heartthrob Tom Hardy (The Virgin Queen, Oliver Twist) as Heathcliff, the mysterious gypsy adopted as a boy by the Earnshaws of Wuthering Heights, and newcomer Charlotte Riley as Cathy, his stepsister and the love of his life.
Part 1 – January 18, 2009 at 8pm on PBS-HD
The fiery Heathcliff grows to manhood with the Earnshaw family of Wuthering Heights, tormented by his stepbrother, Hindley (Burn Gorman, Bleak House), and falling in love with his stepsister, Cathy. But he has a rival for Cathy's heart.
Part 2 – January 25, 2009 at 8pm on PBS-HD
Heathcliff returns to Wuthering Heights as a rich man after a long and mysterious absence. Still pained by his love for Cathy, he sets to work wreaking revenge on two generations of those who wronged him.
Cast & credit list
Heathcliff................... Tom Hardy (The Virgin Queen, Oliver Twist)
Cathy.......................... Charlotte Riley
Edgar.......................... Andrew Lincoln (Love Actually)
Nelly............................ Sarah Lancashire (Oliver Twist)
Hindley....................... Burn Gorman (Bleak House)
Isabella........................ Rosalind Halstead (Bridget Jones: The Edge of Reason)
Catherine...................... Rebecca Night
Linton........................... Tom Payne
Hareton....................... Andrew Hawley
Mr Earnshaw................ Kevin R Mcnally
Joseph........................... Des Mcaleer
Doctor Kenneth........... Shaughan Seymour
Young Heathcliff.......... Declan Wheeldon
Young Cathy................. Alexandra Pearson
Young Hindley.............. Joseph Taylor

See previews and find out more at pbs.org