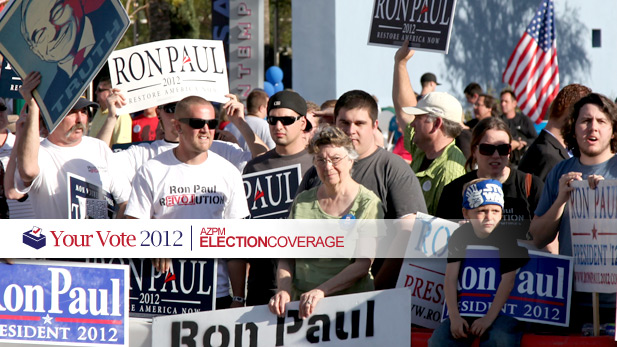 By Christopher Conover and Andrea Kelly
Arizona Public Media
The four Republican candidates for president differ sharply on what must be done to secure Arizona's border with Mexico, from building a double-layer fence, to expanding employer sanctions and local law enforcement powers.
While other issues of national importance filled the majority of the two-hour debate in Mesa, border security was the only question with a specific, direct tie to Arizona.
The candidates also addressed education, nuclear threats from Iran, birth control and corporate bailouts. Audience members from Arizona cities, including Gilbert, Kingman, Wickenburg and Scottsdale brought up some of those issues.
The debate looked different from the previous 19 Republican presidential debates, in that the candidates sat at a table instead of standing behind lecterns on the stage. A CNN bureau chief said having just four candidates provided an opportunity for the more intimate stage set.
Some of the candidates made promises about actions they would take regarding border security.
Former U.S. House Speaker Newt Gingrich said the double-layer border fence has worked in San Diego, and that it would continue working if it were expanded along the southwest border.
He promised if elected, he'd complete the double-layer fence by Jan. 1, 2014, and that he would move half of the Department of Homeland Security employees who are in Washington, D.C. to the southern border.
Gingrich said he and others who voted for comprehensive immigration reform in 1986 during the Ronald Reagan administration were "short-changed."
"I believe you cannot pass a single large comprehensive bill," he said. Instead, he said immigration enforcement and border security needs to be addressed one step at a time.
Former Mass. Governor Mitt Romney and former U.S. Sen. Rick Santorum answered the border security question with comments about the economic reasons for illegal immigration.
Romney said he supports Arizona's use of the E-Verify program to check an employee's legal status to work in the country, and said it has reduced illegal immigration in Arizona by 14 percent since its use became law.
"You see a model here in Arizona," Romney said of the program.
He promised to, if elected, drop the federal lawsuits against Arizona, including the suit about the legality of Arizona's strict immigration enforcement law, known as SB 1070.
CNN anchor John King moderated the debate, and he specifically asked former U.S. Sen. Rick Santorum if employer sanctions should be used in individual labor situations, such as when a homeowner contracts with a landscaper.
Santorum said E-Verify shouldn't be applied to such small-scale employment, but that he supported giving law enforcement a greater ability to enforce national immigration laws, using Maricopa County Sheriff Joe Arpaio's immigration sweeps as an example.
U.S. Rep. Ron Paul said illegal immigrants should be prosecuted for trespassing on private property.
Paul said the federal government has responsibility for international borders, and quipped that the federal government is paying more attention to the border between Pakistan and Afghanistan than between the United States and Mexico.
Before the debate, polls in Arizona showed Romney ahead of the rest of the field, but just as in other states, Santorum is gaining in the polls. A poll conducted this week from PPP had Santorum and Romney statistically tied.