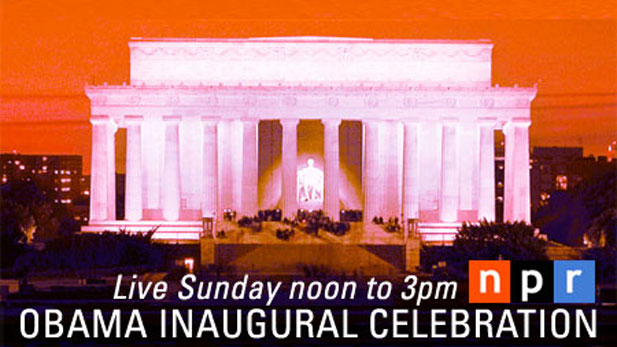 We Are One: The Obama Inaugural Celebration at The Lincoln Memorial" is a free public event on Sunday, January 18, 2009.
NPR Music will present the entire event, which is set to include musical performances by the biggest names in the industry, and historical readings from actors and notable Americans. President-elect Barack Obama is scheduled to participate in the event; both his family and the family of Vice President-elect Joseph Biden will attend, joining an audience of potentially 750,000.
Scheduled performers include:
Beyonce
Mary J. Blige

Bono
Garth Brooks

Sheryl Crow

Renee Fleming

Josh Groban

Herbie Hancock

Heather Headley

John Legend

Jennifer Nettles
John Mellencamp

Usher Raymond IV

Shakira

Bruce Springsteen

James Taylor

will.i.am

Stevie Wonder

Additional performers will be announced as they are confirmed
Wait, Wait, Don't Tell Me will move to 3:00 p.m. To the Best of Our Knowledge, and Fresh Air Weekend will be pre-empted.