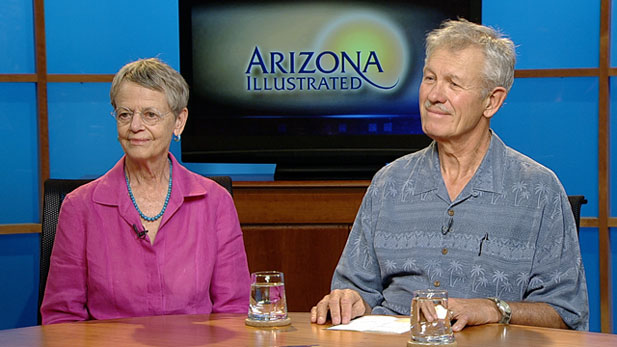 PHOTO: azpm
Arizona Friends of Chamber Music board member Nancy Bissell (left) and President Jean Paul Bierny, discuss the upcoming Winter Chamber Music Festival.
Tucson's 19th annual Winter Chamber Music Festival begins Sunday and this year will include a special concert for elementary and middle school students.
The Arizona Friends of Chamber Music sponsors the event, which this year will include five concerts over eight days, including the March 8 school concert.
The small venue of chamber music events makes the experience more intimate, says Nancy Bissel, a board member of the Friends of Chamber Music.
"It's typically performed in a smaller hall, a smaller venue, so that the audience members are quite close to the musicians, and there's a certain kind of electricity that's generated from the that interaction of the musical players and the people who are listening," Bissel says.
This year the festival will bring chamber musicians from all over the world as well as include some local musicians, specifically University of Arizona music professors.
"The reward is tremendous. The reward for us is to hear gorgeous music played by the best possible chamber musicians. And that is the only reward we are looking for," says Arizona Friends of Chamber Music President Jean Paul Bierny.