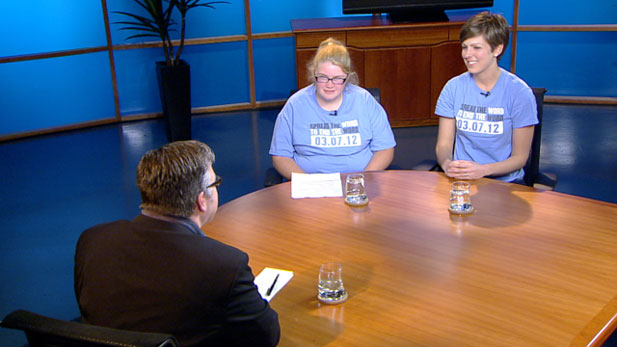 PHOTO: azpm
Marana High School Junior & Special Olympics athlete Rachel Doolittle (left), and Special Education Teacher & Special Olympics coach Loretta Alvarez (right), discuss the new nationwide campaign that is hoping to raise awareness and end derogatory use of the "R" word.
While an increase in social awareness has helped put an end to the casual use of many words that are considered to be derogatory or offensive, there are still some that remain in everyday use.
An example is the word "retarded". A new nationwide campaign, Spread the Word to End the R-Word, aims to raise awareness that retarded is a word that should never be used as an insult or adjective.
Students and teachers from Marana High School, many of whom are also Special Olympics athletes, have been spreading the word and gathering signatures from people who promise to think before they speak and stop use of the "R" word.
March 7 is designated as a national day of awareness about the "R" word and the negative impact it can have on millions of Americans, both adults and children.
The Marana Special Olympics team will be collecting signatures and Spreading the Word to End the R-Word on Saturday, March 31 at the Coronado Area Track and Field competition, held at Amphitheater High School in Tucson.