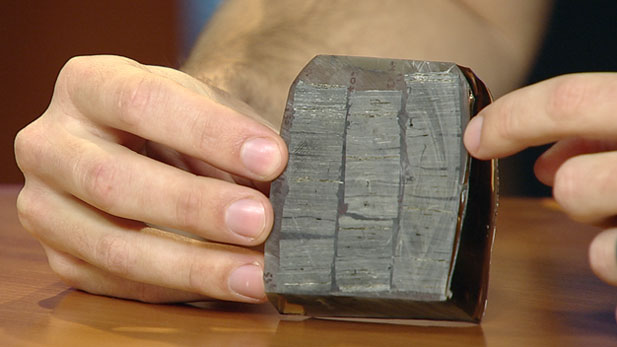 PHOTO: AZPM
UA Ph.D. Candidate of the Department of Geosciences, Nick McKay explains his research into crater lakes where ancient sediment can tell us important things that happened a million years ago on Earth.
Scientific exploration into our planet's distant past is difficult because of gaps left in the records that organic material like fossils and tree rings leave behind.
That's what makes the work of an academic such as the University of Arizona's Nick McKay so important. McKay, a graduate student, has been awarded a scholarship for his research into crater lakes, where ancient sediment can reveal important details about the conditions on Earth as far back as 1 million years ago.
The focus of McKay's dissertation, Lake Bosumtwi in semi-arid Southern Ghana, is on a million-year-old meteor impact crater. His research includes understanding how the region has changed over hundreds of thousands of years, which spans multiple ice ages. It also looks at layers formed in individual years during particularly interesting intervals of Earth's past.
McKay was awarded The McGinnies Graduate Scholarship in Arid Land Studies, named for the late William G. McGinnies.
McGinnies completed his bachelor's degree at UA in 1922, served as the head of the Department of Botany in the 1930s, later served as director for both the Desert Lab on Tumamoc Hill and the university's pioneering Laboratory of Tree Ring Research. He also founded the Office of Arid Lands Studies in 1964.
The intent of the McGinnies Scholarship, which was established in 1985, is to celebrate top graduate students at the University who are at the forefront of arid lands research.
McKay, a Ph.D. candidate in the Geosciences Department, is the 35th to receive the McGinnies Scholarship. He will lecture about his research, called Stories in the Mud: What Lake Sediment Has Taught Me About Past Climates on March 7 at 4 p.m. in the Marley Building, Room 230 on the UA campus.