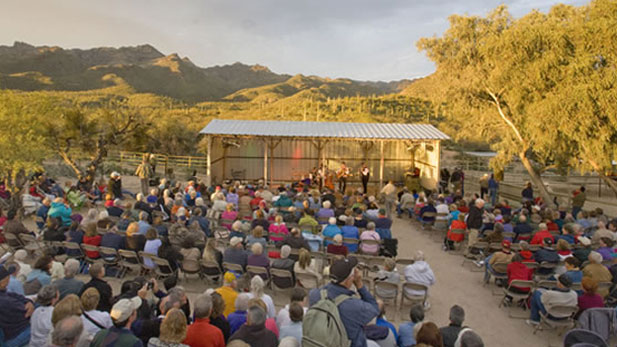 PHOTO: AZPM
'Music in the Canyon' will feature a range of genres in the setting of Sabino Canyon Sunday.
Sabino Canyon will echo more than the songs of birds and the whistling of the wind through desert vegetation on Sunday.
"Music in the Canyon," hosted by the Friends of Sabino Canyon, will begin at noon and run until 4 p.m. The concert will be staged a half-mile from the canyon's parking lot and visitor center, so be prepared for the walk. For those who can't make the walk, golf-cart rides will be available.
With about 2,000 attendees a year, Music in the Canyon showcases live music for a small donation as a way of giving back to the Tucson community.
The concert is in its 15th year, and this year, the theme for the event is Arizona's statehood centennial. The performers will represent several musical genres traditional to Arizona.
"We will have Tucson High's Mariachis, The Lazy S Gang's western cowboy music, Cadillac Mountain's blue grass, and even the Red House Dancers, all performing," saysDave Bushell, president of Friends of Sabino Canyon.
The concert is free, with the organizers asking for a $5 a person donation or $10 for a family. Proceeds go to maintenance and improvements in Sabino Canyon facilities.