Jim Lehrer anchors, with analysis from Mark Shields and David Brooks as well as historians Peniel Joseph, Ellen Fitzpatrick and Richard Brookhiser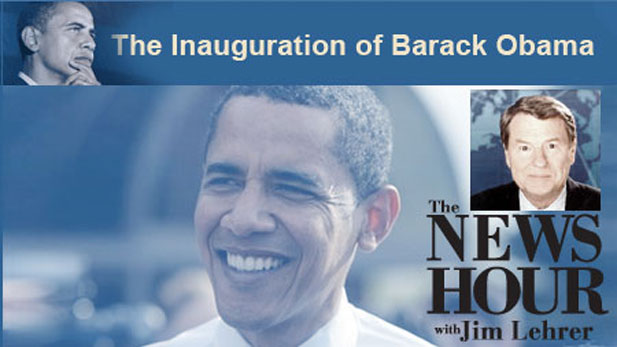 History will be made on Tuesday, January 20, 2009 when Barack Obama is sworn in as the first African-American President of the United States and PBS will be there to provide complete coverage and analysis of the official inaugural ceremonies. Beginning at 9am, Jim Lehrer anchors PBS' inauguration coverage with The NewsHour's balanced reporting, as well as political analysis from Mark Shields & David Brooks, and historical context from Peniel Joseph, Ellen Fitzpatrick and Richard Brookhiser.
Details from the inaugural planning committee are still forthcoming; however PBS plans to include coverage of Barack Obama's arrival at the White House, excerpts of the church service and Barack Obama's speech to the nation from the Capitol steps.
Online Newshour Resources
How you can witness and participate in the 2009 Inauguration

Watch it Tuesday, January 20th, 2009 from 9:00am-12noon on PBS-HD and PBS-World

Listen to NPR live coverage of the Inauguration on KUAZ

Join us to watch the Presidential Inauguration Live in High Definition at UA Centennial Hall

The 2009 Inauguration Coverage is a community supported service of Arizona Public Media and the University of Arizona.