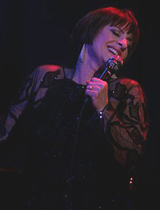 Pattie LuPone in The Lady with the Torch at Carnegie Hall, 2005 (PHOTO: pattilupone.net)
Patti LuPone has had the kind of career that most entertainers dream about, starring in a host of Broadway's biggest successes, along with occasional television work including recent appearances on NBC's 30 Rock.
Patti will perform a special concert called The Gypsy in My Soul at the U of A's Centennial Hall on Sunday, March 4th, so I asked her what she felt was most important to bring along with her...
Listen:
Patti LuPone performs on the Centennial Hall stage on Sunday March 4th at 8 pm.
UAPresents is an underwriter of Arizona Public Media.