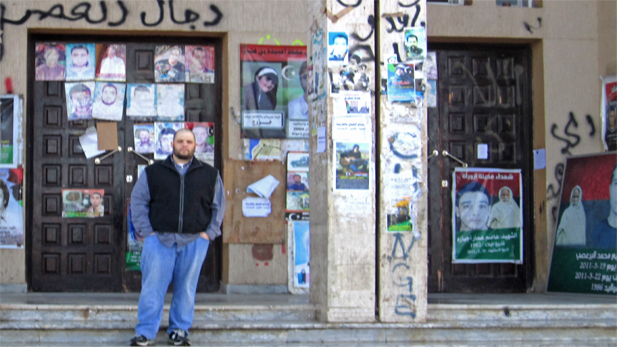 Tucsonan David Shellouff on his visit to Libya, with posters depicting martyrs of the Arab Spring. (PHOTO: Courtesy of David Shellouff)
By Britain Eakin, AZPM Intern
More than a year since the beginning of the Arab Spring uprisings, one Tucsonan of Libyan origin sees the revolutions as deeply personal.
So personal that University of Arizona student David Shellouf visited Libya for the first time in December, with one thing in mind.
"My goal was to drink a cup of tea in my grandma's kitchen," Shellouff says. He had waited 33 years to meet her and the rest of his family living in Libya.
His father Mohammed fled Libya in 1976, after taking part in anti-Qaddafi student demonstrations at the university in Benghazi. The Shellouffs vowed to return to Libya once Qaddafi was gone from power.
David Shellouff says he received a warm welcome and was treated like a long lost family member who had finally come home.
"I just instantly felt the love … it was a special moment for me. I don't think I'll ever forget it for as long as I live," he says.
Before his trip, Shellouff relied on photographs, phone calls and Skype to know and keep in touch with his family. Now he has real memories and experiences to associate with them, he says.
Shellouff also had a similar experience with the country itself. His only knowledge of Libya was from reading about it, seeing photographs and hearing stories from his father.
"Libya is this absolutely gorgeous country," he says. "Forget the oil. Libya could be the tourist spot of North Africa."
Shellouff says he feels differently after his trip to Libya. He feels complete.
"I grew up always kind of longing for that side, longing to meet my family, longing to go to Libya … maybe I was a man who had half a heart before."