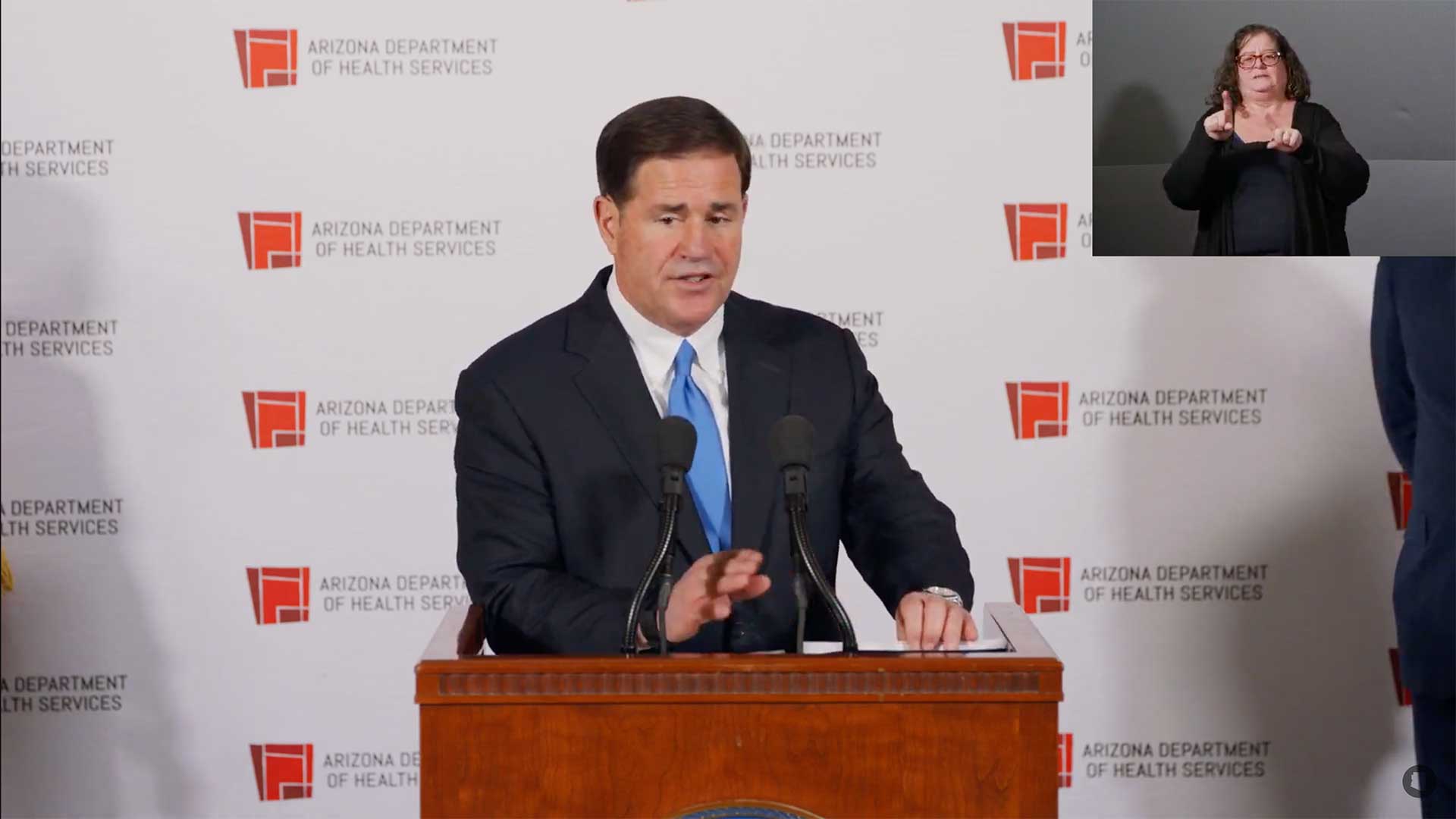 Arizona Gov. Doug Ducey delivers an address about the state's COVID-19 response Dec. 2, 2020.
Office of the Arizona Governor/YouTube
Arizona Gov. Doug Ducey on Wednesday echoed his ongoing emphasis on personal responsibility in the face of surging COVID-19 numbers in the state and around the country, but beyond announcing modifications to rules for public events and outdoor dining, the governor implemented no new mitigation efforts to curb the rise in cases.
Department of Health Services Director Cara Christ said the state may receive "hundreds of thousands" of doses of a vaccine by late December. Ducey promised a plan for vaccine rollout in the next week, saying the state would prioritize groups like health care workers and people in congregate settings. He said another priority would be teachers. He added that the vaccine would be free for Arizonans.
National health experts have warned that swift approval of a vaccine may not mean widespread availability for several months, based on the logistical complexity of production and distribution.
The update came the same week as the state reported staggering coronavirus numbers, with more than 30,000 new cases in the last week alone. Other measures, like hospitalizations and ventilator use, also continued to rise in step with case counts, as the country navigates a holiday season that is already underway. The percent positive test rate has climbed above 15%, Christ said.
Ducey acknowledged calls for more mitigation efforts, like curfews and mask mandates, but declined to implement any such measures. He followed by reiterating his emphasis on personal responsibility and called for people to follow public health guidance and common sense.
"I believe we should instead focus on accountability and enforcing the rules we have now," Ducey said.
The recent rise in cases had led to leaders and health experts around the state to call for more action. Tucson on Tuesday passed its own mandatory curfew, which goes into effect Friday.
In response to a question referencing Tucson's curfew, Ducey said he didn't think it was the "right approach."
Ducey on Wednesday announced an executive order adjusting rules on public events of 50 or more people. When a public event is approved, the local jurisdiction will announce the event and details about what's being done to carry it out safely and get agreements from the organizers to enforce mitigation strategies.
Ducey also announced an executive order that would allow Arizona restaurants to extend their outdoor dining premises beyond current restrictions, including past sidewalks and other public rights of way. He announced funding to help businesses acquire heaters and other supplies for outdoor dining.
In the briefing Ducey also said the state would put $60 million more toward health care staffing. He said a prior $25 million has meant 300 new health care workers coming to the state. He said the new $60 million would mean an additional 500 nurses through January.
The briefing also follows an apparent public falling out between Ducey and President Trump over the certification of Arizona's election results. It is the first briefing since Ducey and Trump's warm relationship soured, ending in Twitter tirades from Trump against the governor, and a Ducey's own thread defending Arizona's election systems.