Beekeepers say warmer weather, more plants and the lack of a hard freeze means swarms of bees are buzzing around part of the Sonoran Desert. Business for some beekeepers has increased by 30 to 40 percent in recent weeks.
Jerry Keele, a Phoenix-area beekeeper, says his company has been receiving 50 to 60 calls a day from people concerned about swarms. Most are anxious homeowners wanting the bees removed quickly.
But Keele says swarming bees rarely attack people, unless provoked. Since the bees are not bound to a hive, they're not protecting their young or honey.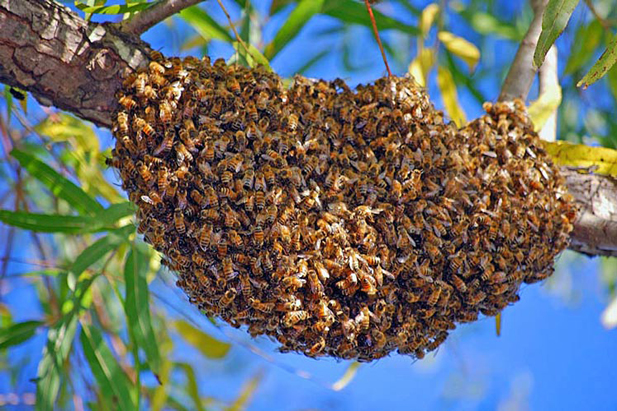 Thousands of worker bees swarm around a queen as they search for a new place to build a hive.
Bees swarm as days get longer and temperatures warm. Swarming is a natural part of their reproductive cycle. In swarming, a new queen is produced within a colony. The old queen, along with about one-half of the workers in the colony, will leave the hive as a mass and congregate on a nearby tree limb, fence post or on the side of a building.
The swarm then dispatches scout bees to find a suitable new hive, which usually takes a few days. Then they move on.
Still, beekeepers warn people to be careful around swarms. If they do attack, victims are advised to quickly find an enclosed space, or to run fast in a single direction. Bees can sometimes chase a perceived threat up to a quarter of a mile.
Last Sunday, a swarm of bees halted a spring training game between the Arizona Diamondbacks and San Francisco Giants at Salt River Fields. The delay lasted about 40 minutes before the swarm moved on.
More resources:
The University of Nebraska-Lincoln has a site devoted to swarming bees.