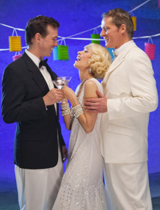 Zachary Ford, Monette Magrath and David Andrew Macdonald star in Arizona Theatre Company's production of "The Great Gatsby". (PHOTO: Tim Fuller/Arizona Theatre Company)
The Arizona Theatre Company's newest production is The Great Gatsby, a play that has gone through a long gestation process to become the first-ever officially approved stage adaptation of F. Scott Fitzgeralds' renowned jazz age classic.
Mark McLemore got the chance to go backstage at one of the play's early rehearsals, to talk with director Stephen Wrentmore, as well as the play's romantic leads -- David Andrew Macdonald, who plays the role of Jay Gatsby, and Monette Magrath, who plays Daisy Buchanan -- to find out how they are bringing to life a story that many consider to be the great American novel...
Listen:
This is currently the last week for The Great Gatsby in Tucson, with performances happening at the Temple of Music & Art through March 17th. The company then moves to Phoenix for a run from March 22nd - April 8th, 2012.
The Arizona Theater Company is an underwriter of Arizona Pubic Media.