Members of Up with People return to Tucson for 10 days starting Friday with a gala performance at the University of Arizona Ballroom on Friday.
The organization, founded in Tucson in 1965 and based in he Old Pueblo for many years, has given young people a voice through song and dance, contributing more than 3 million volunteer hours with thousands of organizations worldwide.
Up with People has 22,000 alumni who have traveled the world delivering a message of spirit and hope.
"This will also be a celebration between the relationship of Mexico and Arizona, and the current up with people cast will be performing as well," says Veronika Westermark, Up With people's international promotions representative
Cast members will assume two roles in Tucson -- performing and volunteering with local organizations.
"They have been working with a lot of nonprofits here, for example, Armory Park Senior Center, middles schools, Youth on Their Own. We even have a group in Mexico right now, working with the Kino Border Initiative. So we have been around a lot in Tucson," Westermark says.
The organization also will celebrate the donation of its archives to the UA Library Special Collections, including past programs, videos and costumes.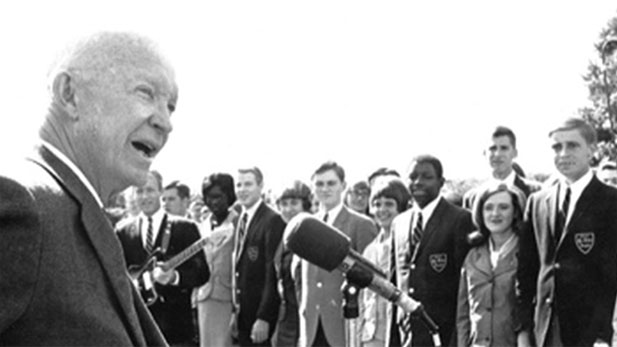 PHOTO: AZPM
Up with People plans an upcoming stay in Tucson to learn more about the Tucson/Mexico relationship, and to provide service projects in Tucson while staying with host families.