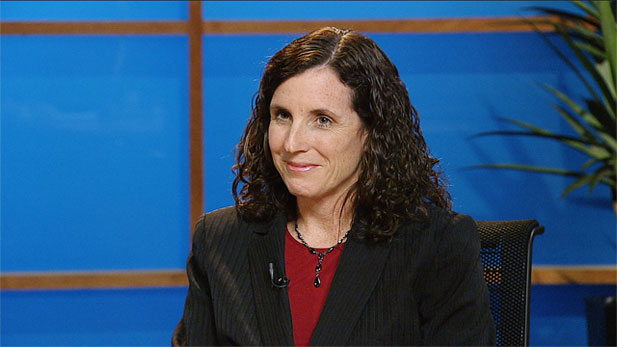 PHOTO: AZPM
Martha McSally wants the GOP nomination in the special election to fill a vacancy in Congressional District 8.
Martha McSally is one of four Republicans vying for the open U.S. House of Representatives seat in Congressional District 8. She's running on a platform of more than two decades of military leadership to solve problems, a skill she says would be useful in Washington, D.C.
She's a retired Air Force colonel, who spent time teaching national security studies in Germany.
"I'm more of an endurance athlete than a sprinter," she says of the compressed schedule for the special election this spring. "Although my political career is only five weeks old, I do know how to strategize, plan and execute."
McSally says she plans to focus on the country's debt and the security threat at the international border with Mexico. She says she'll use her experience in military leadership to solve the nation's problems.
She isn't afraid to challenge authority, she says, as evidenced by a successful lawsuit against the Pentagon for requiring female military troops to wear head scarves in Saudi Arabia.
McSally plans to run for Congressional District 2 in the fall, as do her opponents in the CD8 Republican primary.
"From my view this is a 2 1/2-year job," she said. "I'm running to win in both."
The national discussion on women's health care issues, including contraception, is a sign of the federal government overreaching, McSally says. It's one issue that has polarized politicians, which McSally says is a trend the nation needs to leave behind.
On the economy, McSally says small businesses are the key to job creation, which ultimately means more tax revenue for the government. She proposes lower taxes for businesses to allow them to grow.
McSally is running against fellow Republicans Jesse Kelly, Dave Sitton and Frank Antenori.
Watch the full interview with McSally: