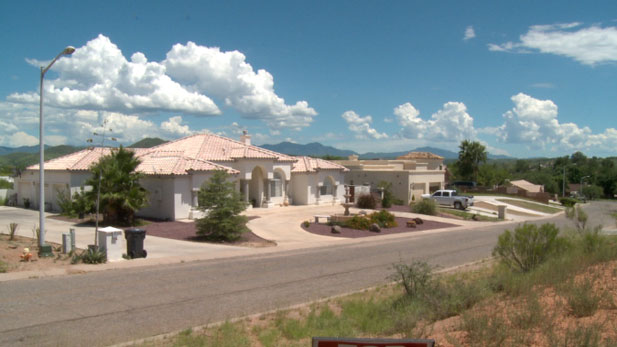 (PHOTO: azpm)
The decline in home values and the lethargic housing market are coming to an end in Phoenix, and where Phoenix goes, the rest of Arizona will follow, says an Arizona State University real estate expert.
"In greater Phoenix, the worst is definitely over," said Michael Orr, director of the Center for Real Estate Theory and Practice at ASU's W.P. Carey School of Business. " ... Most of the signals I look at are looking up."
Orr, who tracks real estate data for the Phoenix metro area including Maricopa and Pinal counties, said in an interview for Friday's Arizona Week that the Tucson real estate market usually follows Phoenix trends by up to 12 months. The two metro areas take in nearly 90 percent of the state's housing market.
Orr said prices are beginning to rise as housing inventory falls, and that is leading some builders to become active again. But he said demand will outstrip supply for a while.
"Each week that goes by, we're seeing less and less homes available, so anybody who's in the market to buy is getting more frustrated and more desperate, and that tends to mean they'll bid higher prices against their competition," he said.
At the same time, Arizona foreclosures remain above the national average. RealtyTrac, an Irvine, Calif., company that follows national foreclosure trends and markets foreclosed properties, reported that in February, Arizona had 9,131 foreclosures, up 4.4 percent from January.
The number was 41 percent below what it was in February 2011 for the state, and Orr said the year-to-year number is the one to watch. He said his own data on foreclosures is more conservative than RealtyTrac's, but he noted a similar year-to-year decline in the state.
"The good news is that we're seeing a continued downward trend in foreclosure activity in Arizona," RealtyTrac Vice President Daren Blomquist said in an Arizona Week interview. " ... This was a continuation of a trend we've been seeing for a long time. In Phoenix, 15 out of the last 16 months, we've seen decreasing foreclosure activity."
At the same time, Blomquist said, the numbers in Arizona were still third highest in the country, and Phoenix still ranked 14th worst among major metropolitan areas for foreclosures.
Despite that, Orr said the state's housing market has shifted in the last few months, and unlike others, he sees recovery coming.
"People are saying we need to get used to the market being this low and it'll stay low," Orr said. "I don't think that's going to happen. We're going to have something of a snap back. And, given the very low supply (of houses for sale) we currently have, it's going to be a feeding frenzy for quite some time."
Prices are rising, in some cases as much as 5 percent a month, he said. Still, because at the bottom of the market they had fallen by 58 percent, there is a long ways to go to get back to normal.
Even with rising prices, home ownership is a relative bargain, both in home costs and mortgage lending rates, said David Godlewski, president of the Southern Arizona Home Builders Association. In an Arizona Week interview, he said it is a good time to buy.
Reporter Michael Chihak further explores Arizona real estate issues on Arizona Week. Watch now: