Reporter Mark Duggan talks with National Weather Service forecaster J.J. Brost about this weekend's winter storm. We discuss rain and snowfall totals and the cold weather the storm is leaving behind. Brost also talks about the rare avalanche warning that's been issued for parts of northern Arizona.
Some Tucsonans got to play in the snow Monday, even though there was no measurable accumulation in the city. Other areas received a mixture of rain and sleet. Storms marched across the valley throughout the day, taking turns with moments of bright sunshine. Occasional breaks in the clouds revealed a snow-encrusted Santa Catalina range.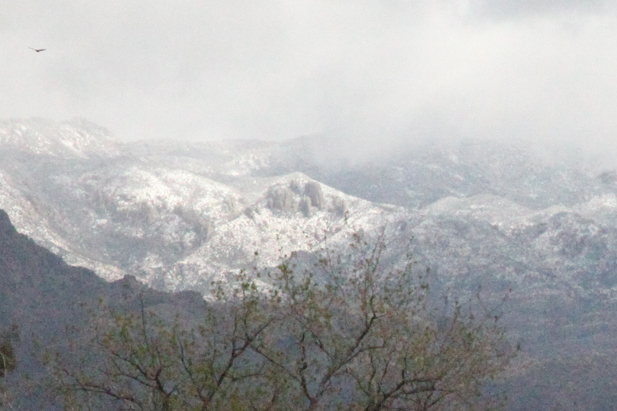 PHOTO: Mark Duggan
Snow on the upper reaches of the Santa Catalina Mountains, after a recent winter storm.
Rainfall in Tucson has been scattered. The official rain gauge at Tucson International Airport registered .30" but some areas reported closer to an inch. The storm will leave unseasonably cold weather in its wake. Lows in Tucson Tuesday morning are expected to be near freezing. But warm weather will return quickly. Forecasters at the National Weather Service say highs will be in the 80s by the end of the week.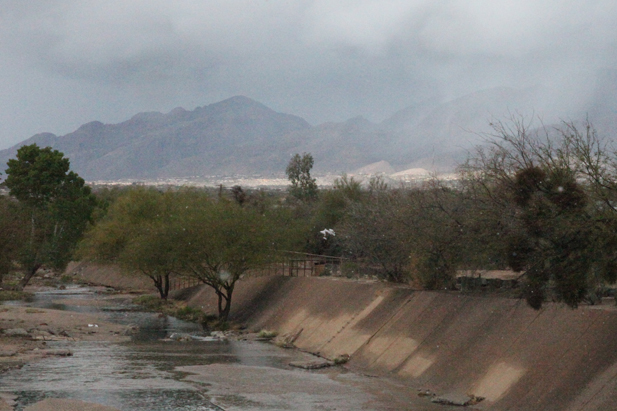 PHOTO: Mark Duggan
Storm clouds over Pusch Ridge, with water running in canals that drain into the Rillito River.
Other parts of Arizona received lots of snow. The heaviest amounts were around Flagstaff, and in the Coconino and Kaibab National Forests.
A rare avalanche warning was issued for parts of Coconino County, particularly around the Arizona Snowbowl ski area. J.J. Brost, Science Officer with the National Weather Service's Tucson bureau, says avalanche warnings are rare in Arizona - the last one issued was ten years ago. He says officials in Coconino County determined that back country conditions are ripe for avalanches and snow slides. Snowbowl has received more than 30" of snow since Saturday.
The Arizona Department of Transportation's travel information website AZ511.gov crashed briefly Monday, because an unusually high volume of visitors. The site was back up within a few hours.