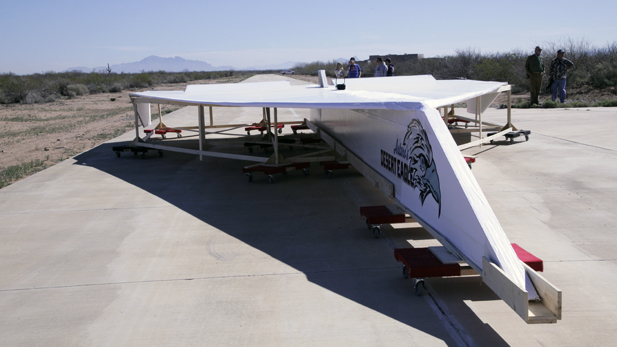 The world's largest paper airplane sits on a wooden frame, awaiting launch. After an initial setback and several repairs, the plane flew for six seconds over the Arizona desert. (PHOTO: Gisela Telis)
The world's largest paper airplane made a brief but historic flight over the Arizona desert yesterday.
A small crowd gathered to watch the record-breaking launch on a remote private property near Eloy. The launch, a project of the Pima Air & Space Museum with several commercial supporters, was intended to inspire community engagement with the museum.
Conditions for the launch were good, and the 45-foot-long, 800-pound plane was set to be lifted by a crane and hitched to the helicopter that would fly it to 5,000 feet and then let it go for its historic flight. But the plane sustained damage just seconds into the lift.
Lead engineer Art Thompson wheeled it back for repairs, unfazed by the setback.
"It may not be until tomorrow, but we're going to fly," he said.
But late in the day, after the build team changed the plane's lifting point from its midsection to its nose, Pima Air & Space got its chance at making history.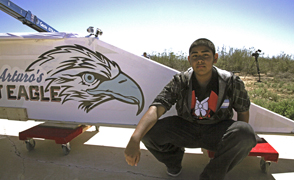 Arturo Valdenegro, winner of the Paper Airplane Fly-Off Contest, says his time with engineer Art Thompson changed his life. "It made me realize I really did want to be an engineer," he says. (PHOTO: Gisela Telis)
Helicopter pilot Aaron Fitzgerald flew the paper airplane to 4,000 feet before cutting it loose. It leveled out and soared for about six seconds, then crashed into the desert.
For Yvonne Morris, the museum's executive director, the flight's success was just a bonus. The real goal--to get kids excited about science and involved with the museum--has already been met, as mounting interest from local schools shows.
But for Arturo Valdenegro, the 12-year-old whose winning small-scale design inspired the bigger paper plane, the flying part was important too. Valdenegro, a seventh grader at Santa Cruz Catholic School who has been building elaborate paper objects since he was six years old, was confident the plane (christened "Arturo's Desert Eagle") would soar.
"It's going to fly," he said as the afternoon and the repairs wore on. "I just know it."
And he was proved right.
Watch the record-breaking flight:
--
Read more about the Giant Paper Airplane Project in our web feature, "On a (Paper) Wing and a Prayer".