Professional and amateur astronomers alike will have plenty to see tonight (March 26), as Jupiter, Venus and the moon will all appear to be in close proximity to each other in the sky.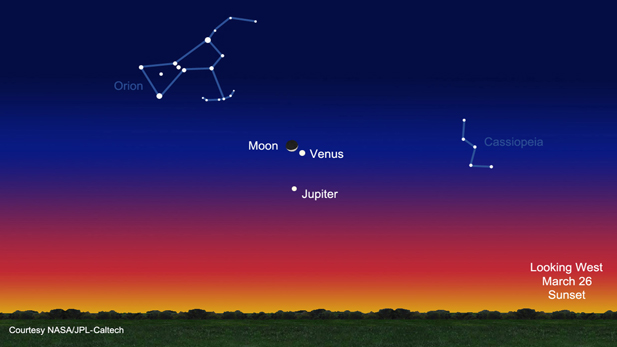 PHOTO: NASA/JPL-CalTech
This sky map shows the relative alignment of Jupiter, Venus and the moon.
Tonight's show caps a great month to watch the heavens. Both Venus and Jupiter have been bright in the western sky each evening for weeks. Tonight, they'll be joined by a waxing crescent moon.
Adam Block coordinates the public astronomy programs at the Mt. Lemmon Sky Center near Tucson. He says tonight's event will be impressive, even if you watch it with the naked eye. In fact, quite a bit of detail can be seen through a pair of binoculars.
After tonight, Venus and Jupiter will start to go their separate ways. By late April, our solar system's largest planet will be setting before sunset, and out of sight, for the first time in nearly a year.

-- According to space.com, the moon is currently about 248,000 miles (400,000 km) from the earth. Venus is 67 million miles, or 108 million km away, and Jupiter is 535 million miles, or 861 million km distant.