When theater students at Tucson High asked their director, Art Almquist, to choose a classical drama for their performance this year, he knew it had to be both compelling and relevant to today's society.
His search for the perfect play led Almquist to Arthur Miller's "All My Sons."
"The great thing about doing a play like this is it is so relevant," Almquist says. "It deals with the idea of soldiers coming home, it deals with war profiteering and how war in many ways can become a business. It doesn't pass judgement on that, it just presents things the way they are."
The play, which students have been preforming on weekends for the past two weeks, has already helped raise more than $800 for Comin' Home, a Tucson organization that helps homeless veterans.
While All My Sons is a classical drama, much before the students at Tucson High's time, the theme of coming home from war is a topic that students and audience members have connected with.
The two final performances will be at 7 p.m. Friday and Saturday at the Tucson High Little Theatre, 400 N. Second Ave. Tickets re $6 for students and seniors, $8 for others and are available at the door at Tucson High or by phone at 520 225-5226.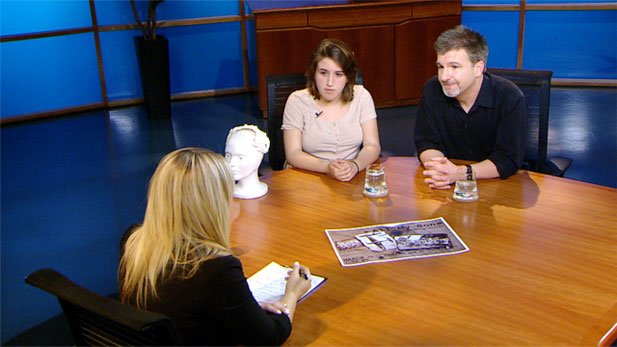 PHOTO: AZPM
Avory Baur (left), a senior at Tucson High Magnet School, and Art Almquist, theater arts teacher and director, tell of 'All My Sons,' the school's current play.