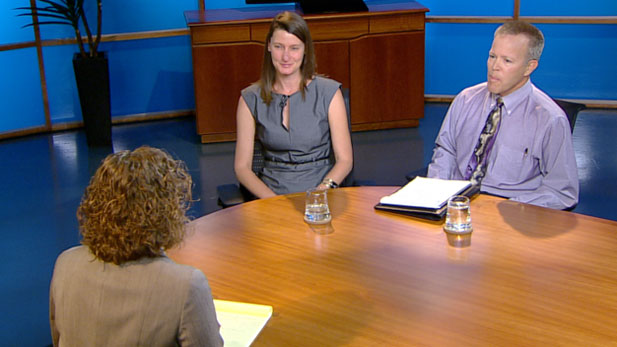 PHOTO: AZPM
Leslie Ethen (left) and Phil Swaim say they want Tucsonans to understand how they can be influential in climate change.
The city of Tucson is studying the effects of climate change on Southern Arizona and is seeking feedback on a plan for accommodating expected climate changes in the coming years.
"It's not just that we're going to be five to eight degrees warmer in Tucson by the end of the century, it's how many more 110-plus days are we going to have? What's going to happen with the intensity of our storms? And then how do those things impact public health, our local economy, tourism?" says Leslie Ethen, the city's director of conservation and sustainable development.
As part of the discussion, the city on Saturday will sponsor a public discussion at the Tucson Convention Center on preparing for the changes.
The report on climate impacts to Tucson will be presented at the event and is the second report on the topic, says Phil Swaim, a member of the city's climate change committee.
"For both mitigation and adaptation, reducing our energy use is going to be huge," Swaim said.