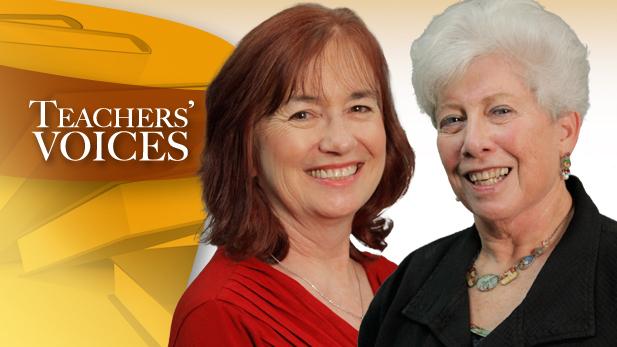 Sandy Jordan (left), executive director for Treasures4Teachers of Tucson, and education supporter Jill Rosenzweig (right)
In cooperation with Tucson Values Teachers, Arizona Spotlight presents a special series called Teachers' Voices. These conversations between educators, administrators, and students gives them a chance to share personal stories about the struggles and triumphs of their daily school experience.
In order to balance the state budget for 2012, lawmakers demanded a cut of over $180 million dollars from the funding for Arizona's K-12 schools. The impact of that cut has been felt in innumerable ways, but one example that directly impacts teachers is the lack of office supplies and simple things needed for a healthy classroom, like tissue paper.
This has often forced teachers to pay for things out of their own pockets, but that's where the volunteer-driven Treasures4Teachers steps in. It collects donations of supplies from individuals and businesses across the state, and then makes those supplies available to classroom teachers for a nominal fee.
In this installment of Teachers' Voices, education supporter Jill Rosenzweig talks with the executive director of Treasures4Teachers in Tucson, Sandy Jordan...
Listen:
Teachers' Voices will air bi-weekly throughout 2012 on Arizona Spotlight, funded in part by The Arizona Department of Education and Cox Communications.