Gov. Jan Brewer's rejection of HB2747 is the first time this year she's wielded her veto pen. In her accompanying letter, she wrote that "the astronomy industry has invested $1.2 billion in Arizona, represents more than 3,300 jobs and has an estimated economic impact of $250 million a year. I simply refuse to place all of this in jeopardy."
Professional astronomers cheered the veto Thursday, saying it shows the state is serious about maintaining the relatively dark night conditions that are conducive to astronomical observation. They'd feared that more electronic billboards could lead to more light pollution, threatening current observations and risking future research projects.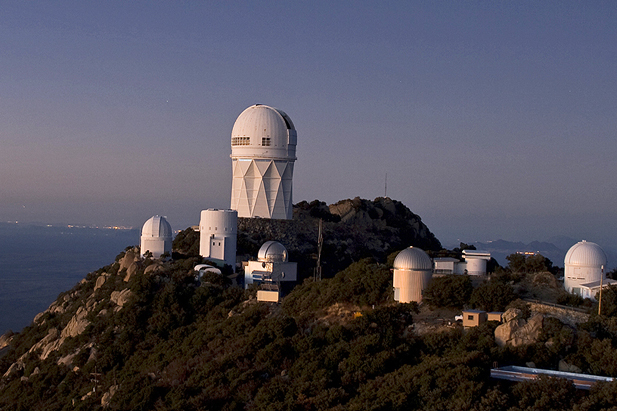 PHOTO: NOAO/AURA/NSF
The facilities on Kitt Peak, including the massive Mayall Telescope, with the lights of Tucson, 40 miles distant.
Billboard companies such as Clear Channel Outdoor expressed disappointment with the veto, but say they're willing to work with astronomers on a future compromise. They noted Thursday that outdoor advertising serves about 4,200 businesses in Arizona. The Governor also noted in her letter that she wanted to update the state's outdoor ad laws while protecting astronomy.
Buell Januzzi is an astronomer at the National Optical Astronomy Observatory, or NOAO, based at the University of Arizona. He's a long-time observer at Kitt Peak Observatory west of Tucson. He says he'd be willing to accept a compromise, but only if it protects the integrity of Arizona's dark night skies.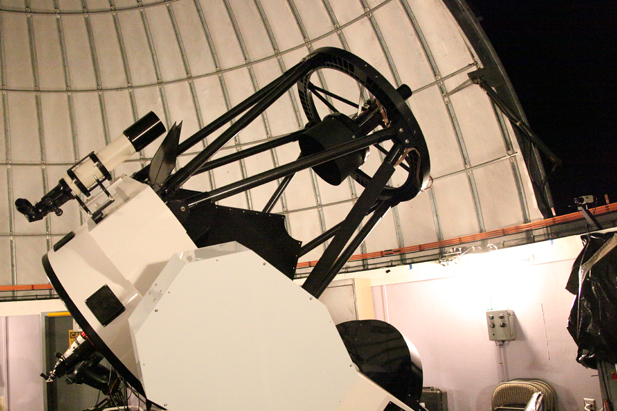 PHOTO: Mark Duggan
The 32" Schulman Telescope on Mt. Lemmon manages nightly viewing programs less than 20 miles from Tucson.
Billboard companies asked lawmakers to change the law after a 2011 decision by the Arizona Court of Appeals that threatened about 70 existing electronic billboards in the state.
Read Gov. Brewer's letter accompanying her veto of HB2747:

HB2757 veto letter: View at Google Docs | Download File
Read a summary of HB2757, as transmitted to Gov. Brewer on March 21:
hb2757-bill-summary: View at Google Docs | Download File