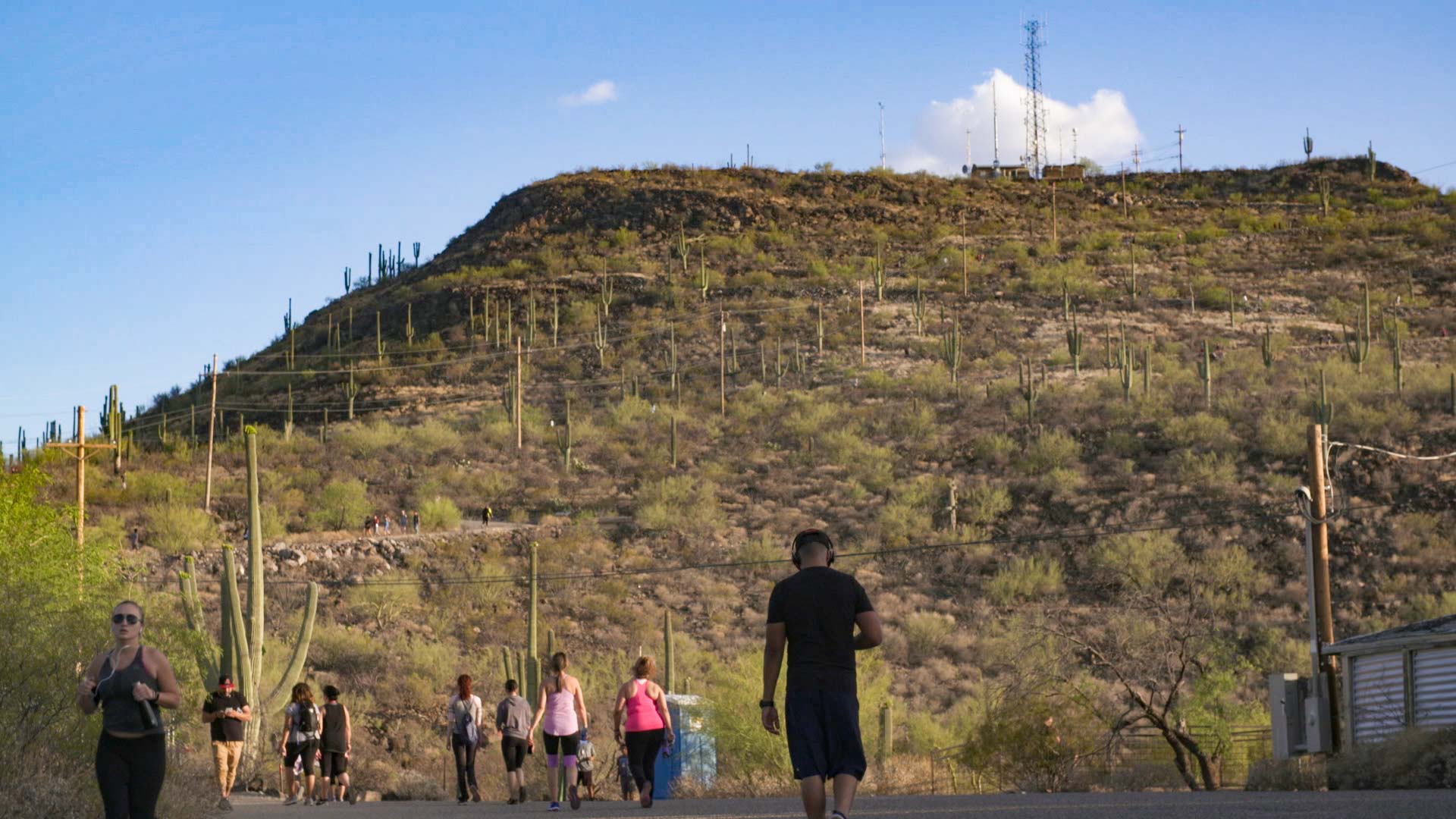 Pedestrians at the midway point on their way up Tumamoc Hill.
Sandra Westdahl/AZPM
Starting today, an old house on the east side of the Tumamoc Hill road will be demolished to make way new gardens. Ben Wilder, director of the Desert Laboratory on Tumamoc Hill, said in its place they will create a "forward-looking" community space that has dual benefits:
"Creating a space that is one, enjoyable and pleasant to be in, and two, provides answers and tools to address the question of 'how do we live in a hotter and drier future?'" Wilder said.
The first stage of the garden plan involves building two new shade houses for agaves and other native plants. Eventually, the Desert Laboratory will also construct a backyard kitchen garden and other elements on the site. The former owner of the house also created the nearby Luminous Mother Shrine. That shrine will remain unaltered and eventually be surrounded by a "desert smells like rain" garden.
VIEW LARGER The Desert Laboratory's renovated greenhouse on Tumamoc Hill.

Jake Steinberg/AZPM
Wilder said the goal is to make the work of the Desert Lab relevant to the larger community.
"Things aren't really going to get easier here in the desert or anywhere. And we can predict that hotter days and longer droughts are coming, and we're starting to live through some of that," he said.
But Wilder said we have a lot of knowledge about how plant and human life have adapted to arid climates over a very long time scale.
"The role of the lab is to help communicate that information. Both the changes we expect to see but also how to adapt to those changes. And that's where the gardens fit in."
He said this effort is the start of a much larger plan to center outreach and community engagement elements of the Desert Laboratory at the base of Tumamoc. That will also involve asking the community what they want to learn to adapt to climate change and food insecurity.
Construction will last through the middle of this week.