Updated April 4, 2012
Arizona Attorney General Tom Horne is under investigation for allegations of campaign finance violations and unethical conduct.
A complaint filed with the secretary of state's office says Horne, his brother-in-law, a political consultant and a former representative of an independent expenditure committee violated state and federal campaign laws.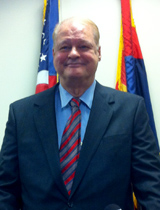 Arizona Attorney General Tom Horne (PHOTO: Fernanda Echavarri)
Assistant Attorney General Don Dybus filed the complaint in early February demanding an investigation.
Horne says Dybus filed the complaint to try to use whistle-blower protections and save his job, after learning that he was about to be fired. Dybus disputes that, saying several higher-ups have tried to fire him in the past but the complaint was filed for legal and ethical reasons.
Horne says Dybus was quoted on a news story saying the allegations were not based on direct evidence.
The secretary of state's office received the complaint and decided it should be handled by a different law enforcement agency, says office spokesman Matt Roberts. Roberts would not say which agency. The Arizona Capitol Times reported Monday it is the FBI.
In a 15-page written response Horne denies the accusations.
The complaint alleges that Horne, during his 2010 campaign for attorney general, received money from Business Leaders for Arizona, an independent committee. The chief fundraiser and spending consultant for Business Leaders for Arizona is Lincoln Strategy Group.

That organization actively and regularly gave campaign advise to Horne during the election cycle, according to the complaint, a move prohibited by federal and state laws.
Lincoln Strategy Group, while in communication with Horne, spent $510,000 on TV ads attacking Horne's opponent, Democrat Felicia Rotellini, the complaint says.
The complaint says Horne promised employment to the chairwoman of Business Leaders for Arizona, Kathleen Winn, and once he became attorney general, Horne hired the her as his outreach director.
Horne denies any wrongdoing with Winn and says he had no communication with the head of Lincoln Strategy Group.
Read Complaint Against Tom Horne Here
View at Google Docs | Download File
Read Tom Horne's Response Here
View at Google Docs | Download File