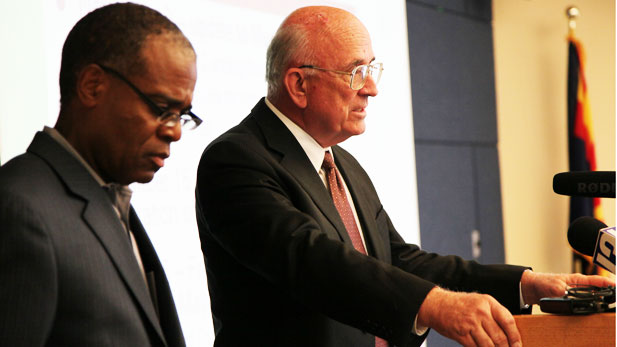 Luis Carrión
Former Tucson Mayor Bob Walkup has died.

Walkup served three terms from 1999 to 2011. He was known as a moderate Republican. He played a role in sparking downtown Tucson's revitalization.
During his tenure the university established a presence downtown, and new corporate headquarters were established, setting the stage for further interest in downtown as a desirable area for development.
In a statement released today, current Tucson Mayor Regina Romero, who served on the City Council with Walkup praised the former mayor:
"Mayor Walkup was a born statesman and always strived to create the best Tucson possible. Our city is better because of him," she said. "His leadership on issues ranging from economic development, water security, and transportation positioned Tucson for a strong recovery out of the Great Recession. He always had a vision to create a lively, bustling downtown for Tucsonans to eat, work, live, and play.
Walkup was in hospice at his home in Tucson. He had been diagnosed with idiopathic pulmonary fibrosis — a progressive lung disease that causes scar tissue inside the lungs and makes it hard to breathe. He died Friday at age 84.